---
Maja Włoszczowska – Kross Racing Team
---
Very good feeling after the Sunday XCO. I was really amazed with the ambiance created by the local Brasilian. I wish to have it the same on my race in Jelenia Góra! It is already ok, but still we are far behind the enthusiasm and first of all the attendance of Brasilian. From the organisation point of view the event was a top class. Aparat of the elite races there was a lot of different events for the amateurs and spectators with a fair with a big number of booths, catering etc…
---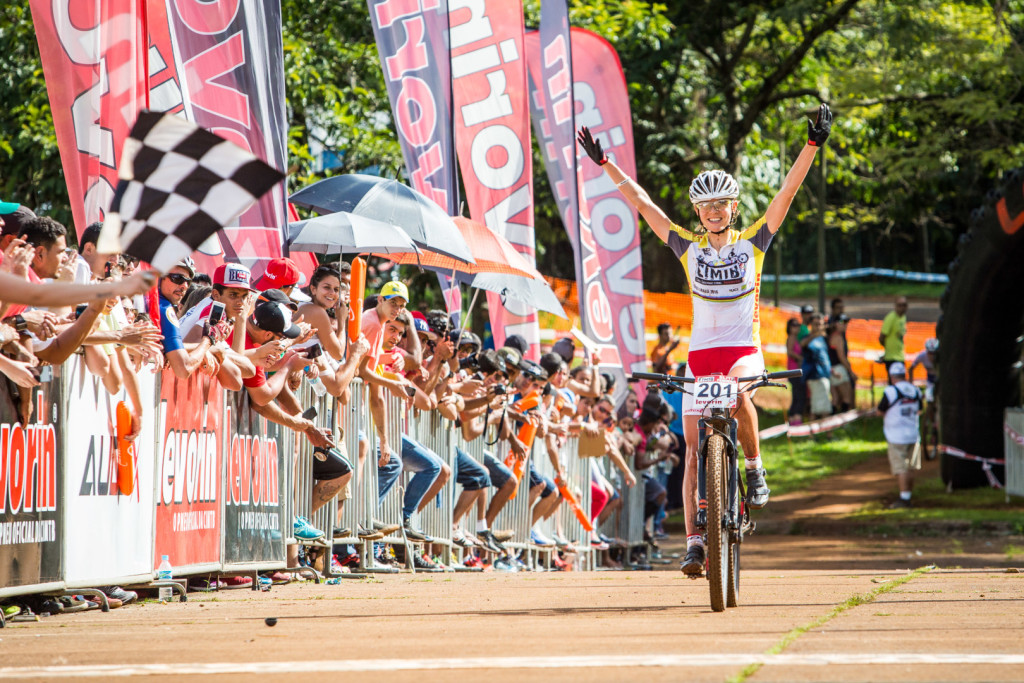 ---
About the race – the route itself very nice. Except two drops it was fully natural with a lot of technical sections. In fact, one of the best in my sport career to race on.
This was a first start in this season so there was a little bit more emotions before – like always. On the top in Columbia I did not made any intensive training on the high altitude. And the competitors where not bad. In example Raiza Goualo has made a big progress versus last season. Daniela Campuzano is almost always in the top 20 in the World Cup. In the Aquece Rio she got the fifth position. On the top the season in South America starts earlier and racers there better adapt to the high temperatures. With all of this I was not sure about my final result.
First stage was a Time Trial which I won with only 12 seconds on Campuzano. Next two stages were also won with a very tiny time gap, on the other side I felt having a full control on the race and no problem to make a gap and keep it. The other thing is that I made this race with power meter, so I know that it was really good.
---
Henrique Avancini – Cannondale Factory Racing
---
Copa International de MTB was an important race to me. Lots of UCI points, a lot of spectators supporting me and a very significant point on my preparation for the season. I went to this race targeting a good result at the overall.
I did a great Time Trial on Friday. When I lined-up the rain just started. Just to add some more action… Felt strong and rode smooth, not taking so many risks. To win was a good start and also boosted my confidence.
On Saturday, I had a nasty crash on a qualifying round of the short track. I would say that was great. There is nothing like a slap on the face to wake up the animal instinct. I recovered on the race and won the qualify. Advanced to the final winning it and increasing the gap for the GC.
---
[fb_embed_post href="https://www.facebook.com/henrique.avancini.7/photos/pb.496151467069959.-2207520000.1457615917./1131150023570097/?type=3&theater/" width=""/]
---
For Sunday I had some scratches and a bit of pain, but if it's not hurting it's not MTB. I tried to ride as smart as possible for the overall. By the end of first lap I had a puncture, when I was leading the race. I made a stop at the tech zone, made the wheel change and came back out of top 15.
Then it was time to work hard. I had to push a lot to close the gap and by the end of 2nd lap I was on the wheel of David Rosa. He had a gap of 1´:13´´ on the overall, so I went to my limit to close the gap and keep his wheel. After that I just tried to keep with him. I tried to make something on the last lap, but as soon I realized that I would need to take too many risks to try a win at the stage, I turned my focus to the main goal and just rode safely to get the GC win.
I more than happy with how I performed and how could deal with the surprise facts. I'm preparing at my best to Rio and it was a good first step. Next stop is in South Africa. I will riding the Cape Epic with Manuel Fumic. We are going to use it as a high quality preparation for the season. I like stage races and usually I do well. I'm excited for this new experience.
---
Raiza Goulao – Specialized Racing
---
One of the most awaited events of the year in Brazil for MTB riders, teams and fans: this is the Araxá SHC race. The 2016 edition featured a start list with athetles from more than 10 different nations. The riders level and the audience made the atmosphere something like a Brazilian version of UCI World Cup.
After returning from Argentina, on Wednesday March 2nd , I joined to all Specialized Racing BR team menbers for a 600 km road trip to Araxá, Minas Gerais. After a pleasant and relaxing trip, full of good music we arrived in our destination at night.
On Thursday morning, we set our structure in the teams support area. Our mechanic, Giuliano, checked our equipment and Shimano staff , prepared all bikes with the new 2016 XTR Di2 group sets.
SHC races consists of multiple stages in consecutive days. The first day was a Time Trial with one lap in the complete course, when a fine tuning makes the difference. I finished in fourth and started immediately a recovery with my physiotherapist, Rafael Gomes.
The second day was a short track of 25 minutes + 2 laps. I saved energy for cross country and finished in 6th, keeping a short difference to my main opponents.
The third stage was the XCO, my specialty. I woke up confident and fresh. We started at 2p.m. for 4 laps. Since the beginning I managed to keep close to the two strongest competitors, Maja Włoszczowska and Daniela Campuzano, in a intense pace. In the third lap I lost contact with them, but kept a comfortable distance to the rider behind me. I finished third in the stage and overall classifications, very happy and thrilled with the crowd cheering for me.
---
[fb_embed_post href="https://www.facebook.com/raizagoulaomtb/photos/a.235342249960751.1073741828.235286169966359/548149708680002/?type=3&theater/" width=""/]
---
My Specialized S-Works ERA with tires Fast Track 2.0 and the XTR Di2 groupset was perfect and I was in full synchrony with my bike.
I would like to thanks all my Specialized Racing BR team for the structure and support, my physiotherapist Rafael Gomes for the great work and support, my coaches, Tjeerd de veries and Leo Van Zeeland, and my nutritionist Patrícia Bertolucci and Honey Stinger for the supplementation and nutrition strategy.
One step towards my main goal. Closer to the Olympics and even more motivated for the next races.
---
David Rosa – Portugal National Team
---
First stage for me was a disaster, the start was delayed some 20 min and heavy rain started when I was on the start line. I was with semi-slick tires and I just couldn't control the bike or have grip on the climbs. Lost over a minute on such a short stage.
Second stage for me was about losing as little time as possible, because I normally don't do well on short-track. After a bad start I was in he second group (Avancini and Frederico were in front working together) pulling alone, keeping the front group at 15 seconds. Eventually on the last lap I closed the gap on them on the climb and finished 3rd, 2 seconds from 2nd and 10 from 1st.
---
[fb_embed_post href="https://www.facebook.com/DavidRosaXCO/photos/a.186722031346223.42568.185645671453859/1124243484260735/?type=3&theater/" width=""/]
---
Last day I was in 6th at the start and my objective was to finish as high as possible on GC. So I pulled the entire race to put as much time as possible on those who were in front on me on GC. Avancini was defensive, on my wheel, occasionally going in front on singletracks easing the pace. Suffered a bit in the heat, because as though I like those conditions, I'm not used to it now. In the last lap I attacked and won by 37 seconds.
---
Jovana Crnogorac – Serbian National Team
---
It's 5th weekend of racing for me and 4th stage race in row, I have to admit it's a lot. After Greece where I did 2 stage races as training and Cyprus where I could see my shape it's coming and unfortunately having a mechanical problems stoping me to make a good result in GC.
Straight after the race I flew home for one day and directly to Brasil for this race. First stage – it was TT one lap on regular xco course – around 7km and 22′ in first 10′ I already catch girl in front of me and I felt strong on climbs, but made to many mistakes on technical parts. Finished only on 8th position. Not happy at all, but as I know myself it's always like this with me and TT.
Second stage – short course lap was a little part of xco course around 9′ we had 25′ + 2 laps. That morning I felt bad, had stomach problems and felt weak. At the warm up I had to make it shorter ,because of this bad feeling. I didn't expect anything I was just hoping for making race done. First 20′ I was ok, I could find good rhythm and I was riding in leading group with Maja and Daniela Campucano, but after making small mistake on uphill I lost connection to them and after I couldn't come back. Finished in 5th position and 6th overall.
---
[fb_embed_post href="https://www.facebook.com/jovanacrnogoracmtb/posts/513699278802924/" width=""/]
---
Third stage – xco with 4 laps I was still not good with my health, but little better than day before. Heat was crazy, around 37c and very high humidity. First two laps I couldn't find my rhythm and I didn't feel good at all. At one point I was in 8th position and suffering. In 3rd lap somehow like I woke up finally and from that point I felt good I catch 4 girls and managed to get to 4th position and 5th in overall.
I can't say I'm happy with results because I know it was not the outcome of the shape what I have at the moment. But also I can't say it's really bad because I still bring 110 uci points home. After epic 5 weeks of racing I'm happy I go home and already on Friday going to Alanya for training camp.
---
Mary McConneloug – Kenda Intense
---
Mike and I just got back to Santiago, Chile after a quick week race trip to Brasil for the Copa Internacional UCI SHC race… Happy to report it went really well and Mike and I had a fantastic experience racing in this sweet spot.
It was hot and humid with thunderstorms nearly every day. The red mud stained our tires and clothing and the memories of beautiful lush jungle single tracks fill our mind. I was happy to finish on the (generously large) podium each day alongside the tough international competition. As I start my first XC races of the year I am motivated and happy to have this opportunity to push myself as I look forward to building my fitness and increasing my international ranking as we get into the World Cups. I especially enjoyed being able to start on the front row – because in racing if you are not there at the start, it is nearly impossible to make it forward with the amazing talented fields!
---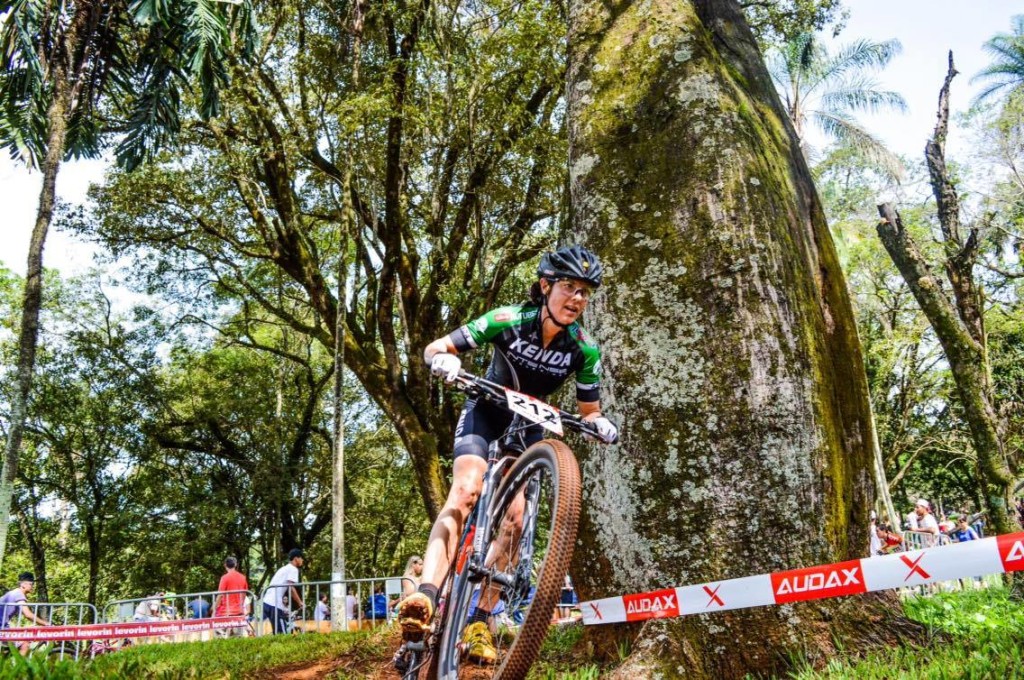 ---
Great to catch up with some longtime friends on the circuit and also meet more people from around the world who are stoked on MTB and into healthy active lifestyles…. Because really, this is what it is ALL about!!!
Happy trails and good health!