Dziesięć tysięcy za rower górski to jest taka kwota, że możemy bez żadnych problemów wybrać gotową maszynę do ścigania. W tytule jest podane, że graniczna kwota to równo 10 tysięcy, ale wszyscy dobrze wiemy, że na tym poziomie rozmowy o rabacie w sklepie mogą być owocne i nie zawsze będą nas wysyłać do Maroka. Dlatego też w zestawieniu są rowery zarówno poniżej, jak i powyżej tej granicy. Bazą, jak sam tytuł wskazuje jest karbonowa rama, która uzupełniona o dobry widelec, koła oraz napęd może dać nam lekką i dynamiczną wyścigówkę.
Jeśli chodzi o widelce to dominuje Rock Shox – modele Reba, rzadko pojawia się SID. Jest także Fox model 32 Float Performance. W pojedynczych rowerach możemy znaleźć produkty DT Swiss czy Manitou. Standardem jest sztywna oś z przodu, często pojawia się także w tylnym kole. Jeśli chodzi o koła, to dominuje DT Swiss, ale jest też kilka autorskich produkcji czy to od małych producentów czy to marki własne. Napędowo z jednym wyjątkiem mamy praktycznie tylko i wyłączni kombinacje 2×10 i 1×11. O ile w pierwszym przypadku to przede wszystkim Shimano, o tyle w drugim ostatnia nowość od SRAM – grupa GX.
Wagowo większość roweru oscyluje w okolicach 11 kg. Niestety część producentów nie podaje wagi swojego roweru, więc trudno wyrokować. Żaden rower nie schodzi poniżej 10 kg.
Jeśli chodzi o rozmiar koła to w zależności od producenta – mamy dwa różne rowery, mamy bliżniacze konstrukcje albo rozmiar koła jest uwarunkowany rozmiarem ramy.
Z wyjątkiem Specialized w zestawieniu mamy tylko rowery z kolekcji 2016.
Kolejność alfabetyczna.
---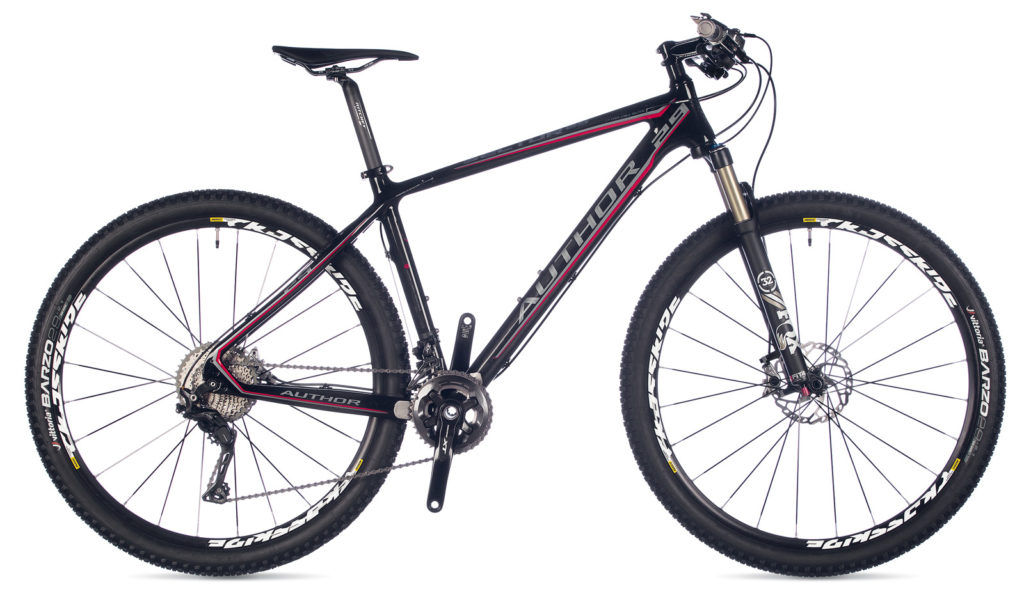 ---
Author Sector 29
---
FOX 32 Float Performance 100 mm/ sztywna oś 15 mm
Shimano XT 38-28 / Shimano XT 11-40 / Hamulce Shimano SLX
Mavic Crossride Light / Vittoria Barzo 29×2.1
Waga 11.2 kg / Cena: 8 799 PLN / link
---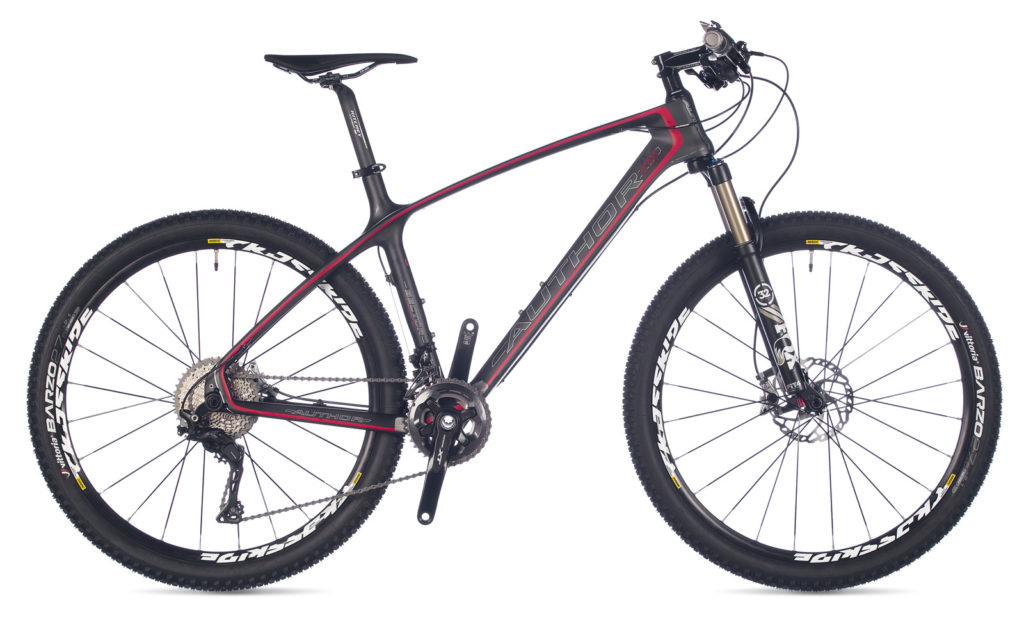 ---
Author Sector 27.5
---
FOX 32 Float Performance 100 mm/ sztywna oś 15 mm
Shimano XT 38-28 / Shimano XT 11-40 / Hamulce Shimano XT
Mavic Crossride Light / Vittoria Barzo 27.5 x 2.1
Waga 11.1 kg / Cena: 8 799 PLN / link
---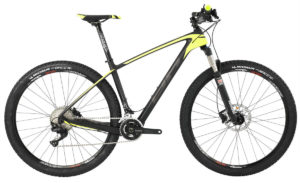 BH Ultimate RC  29 8.7
Rock Shox 30 Silver RL
Shimano XT 36-26/ Shimano XT 11-40 / Shimano M396
Koła BH Lite / Opony Michelin Country Grip 29 x 2.1
Waga: 12.6 kg / Cena 9 699 PLN
---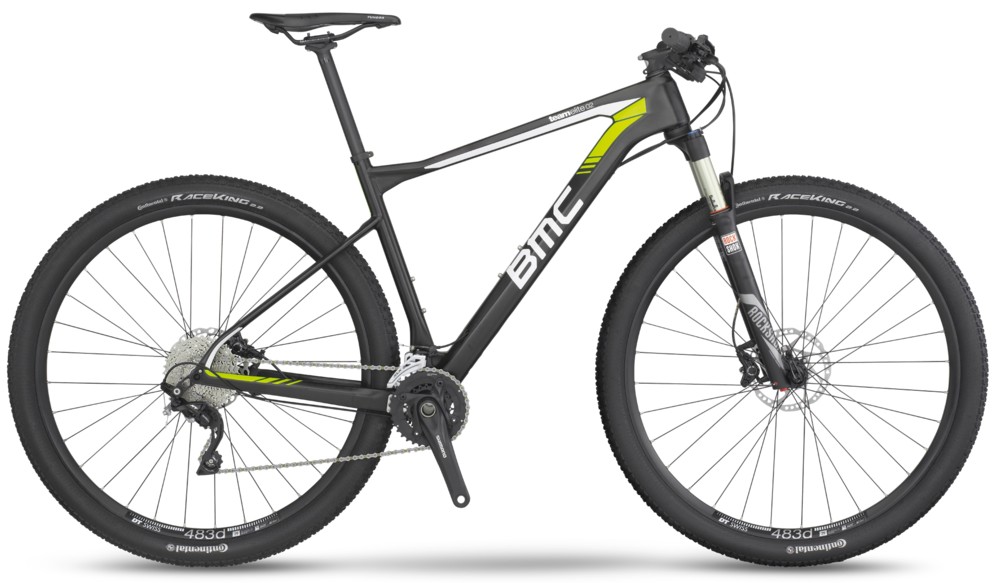 ---
BMC Teamelite 02
---
Rock Shox Reba RL SoloAir 100 mm
Shimano SLX 36-22 / Shimano XT Shadow 11-36 / Shimano Deore
DT Swiss 483d / Continental Race King Performance 29 x 2.2
Waga: b.d. / Cena 11 586 PLN / link
---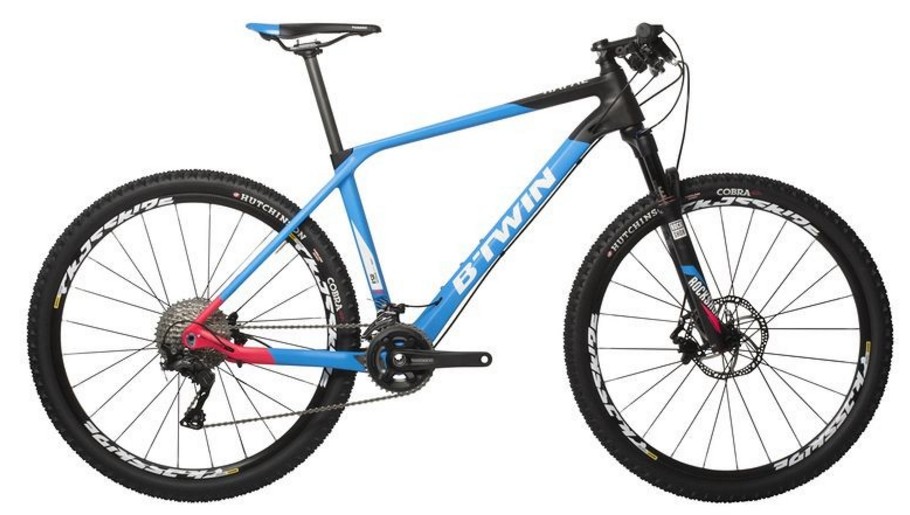 ---
BTWIN Rafal 760
---
Rock Shox Reba RL 100 mm / sztywna oś 15 mm
Shimano XT 36-26 / Shimano XT 11-40 / Avid Code R
Mavic Cross Ride / Hutchinson Cobra 27.5 x 2.1
Waga: 11 kg / Cena 8 299 PLN / link
---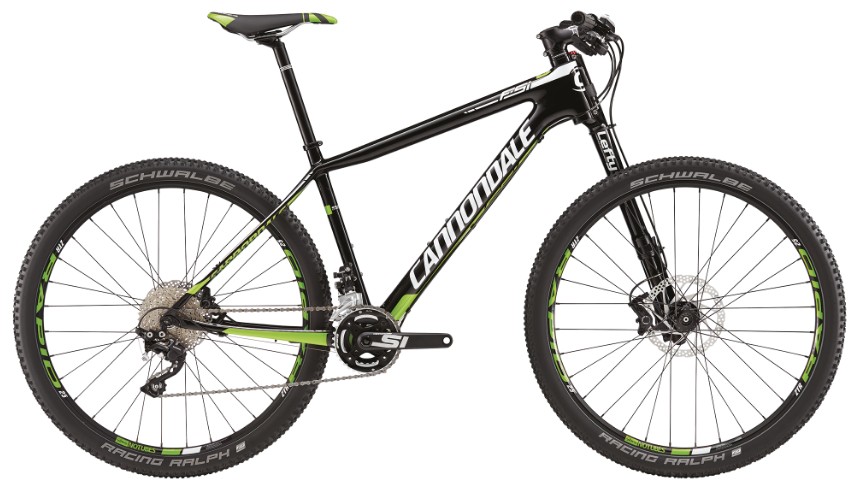 ---
Cannondale F-si Carbon 4
---
Lefty 2.0 PBR Isolated Dumper Technology w/XC+ tune 100 mm
Shimano Deore / Cannondale Si 36-26 / Shimano XT Shadow Plus 11=36 / Shimano Deore
Stan's ZTR Rapid / Schwalbe Racing Ralph 27.5 / 29 x 2.10
Waga: b.d. / Cena: 12 499 PLN / link
---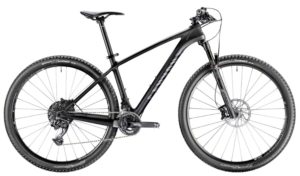 Canyon Grand Canyon CF SL 7.9
Rock Shox SID RL 100 mm / sztywna oś 15 mm
SRAM GX  36-24 / SRAM GX 10-42 / SRAM Guide R
DT Swiss X 1700 / Continental X-King Racesport 29 x 2.2
Waga: 10.3 kg / Cena: 9 299 PLN
---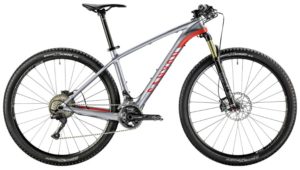 Canyon Grand Canyon CF 6.9
Fox Performance 32 Float 100 / sztywna oś 15 mm
Shimano Deore XT 38-28 / Deore XT Shadow Plus 11-40 / Shimano Deore XT
DT Swiss X 1700 / Continental X-King Racesport 29 x 2.2
Waga: 10.8 kg / Cena 9 299 PLN
---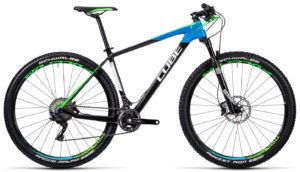 Cube Elite C:62 Pro 29 2X
Rock Shox Reba RL 100 mm / sztywna oś 15 mm
Shimano XT 36-26 / Shimano XT 11-40 / Shimano XT
Fulcrum Red 44 / Schwalbe Rocket Ron 29 x 2.25
Waga: 10.65 / Cena 12 689 PLN
---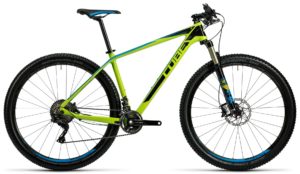 Cube Reaction GTC SL 2X
Fox 32 Float Fit4 / sztywna oś 15 mm
Shimano XT 36-26 / Shimano XT Shadow Plus 11-40 / Shimano XT
Fulcrum Red 44 / Schwalbe Racing Ralph 29 x 2.25
Waga: 10.65 kg / Cena 9 999 PLN
---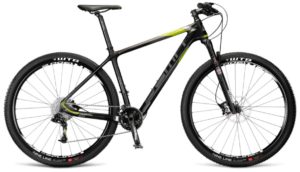 DEMA Ferrara 9.0
Rock Shox Reba 100 mm
SRAM X9 38-24 / SRAM X9 11-36 / SRAM DB3
DT Swiss X1900 / WTB Nineline 29 x 2.25
Waga: 11.0 kg / Cena: 9 799 PLN
---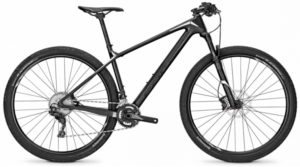 Focus Raven Lite 29
Rock Shox Reba RL 100 mm / sztywna oś 15 mm
Shimano XT / FSA Comet 38-28 / Shimano XT 11-40 / Shimano Deore M615
Concept EX / Continental Race King 29 x 2.2
Waga: b.d / Cena: 11 490 PLN
---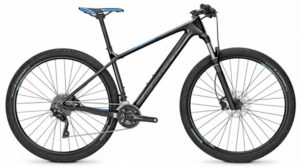 Focus Raven Elite 29
Rock Shox Recon Silver 100 mm / sztywna oś 15 mm
Shimano FD-616 38-24 / Shimano XT 11-36 / Shimano M396
Concept EX / Continental Race King 29 x 2.2
Waga: b.d. / Cena 8 390 PLN
---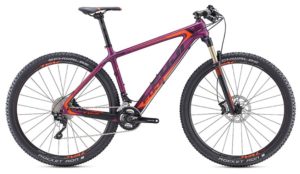 Fuji SLM 29 2.3
Rock Shox Recon Gold RL 100 mm / sztywna oś 15 mm
Shimano Deore XT 38-24 / Shimano Deore XT Shadow Plus 11-36 / Shimano Deore
Oval Conceptes 400 CL / Schwalbe Rocket Ron Performance 29 x 2.25
Waga: 11.46 kg / Cena 10 399 PLN
---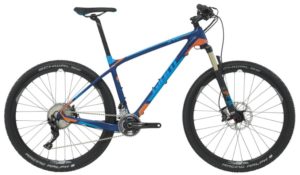 Giant XTC Advanced 27.5 1.5 LTD
FOX 32 Float Performance 100 mm
Shimano XT 36-26 / Shimano XT Shadow Plus 11-40 / Shimano XT
Giant P-XC 27.5 / Schwalbe Racing Ralph 27.5 x 2.1
Waga: b.d / Cena 10 399 PLN
---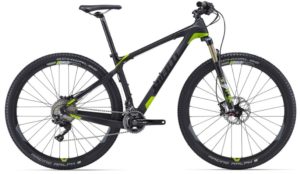 Giant XTC Advanced 29ER 1
FOX Float Performance 100 mm
Shimano XT 34-24 / Shimano XT 11-40 / Shimano XT
Giant P-XC 29″ / Schawlbe Racing Ralph 29 x 2.1
Waga: b.d. / Cena 10 299 PLN
---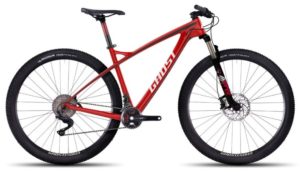 Ghost HTX EBS 2 LC
Fox 32 Float Performance 100 mm
Shimano XT 36-26 / Shimano XT Shadow Plus 11-40 / Shimano SLX
Rigida Rival 21 / Michelin Wild Race R 2.25
Waga: b.d. / Cena: 9 499 PLN
---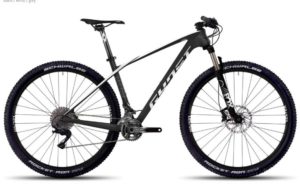 Ghost Lector LC 6
Fox 32 Float Performance 100 mm / sztywna oś 15 mm
Shimano XT 36-26 / Shimano XT Shadow Plus 11-40 / Shimano XT
Rigida Rival 21 / Schwalbe Rocket Ron 29 x 2.25
Waga: b.d. / Cena 11 299 PLN
---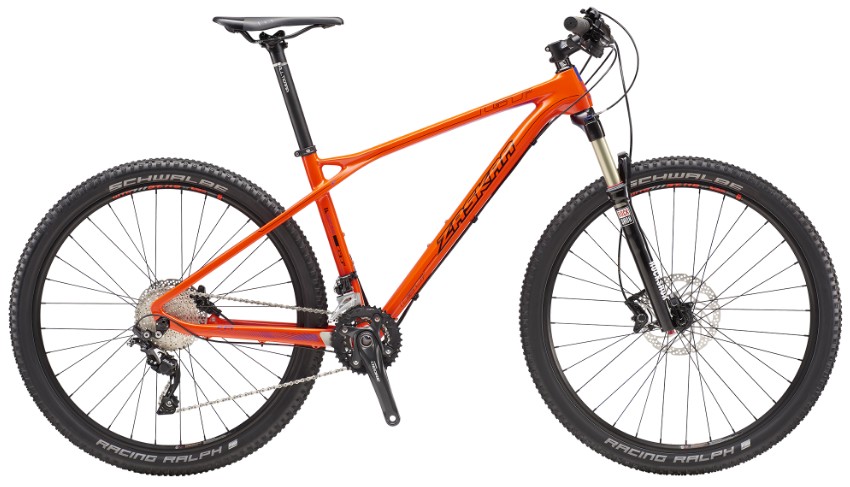 ---
GT Zaskar Carbon 27.5 Elite
---
Rock Shox Recon Gold RL 100 mm / Sztywna oś 15 mm
Shimano Deore 38-24 / Shimano SLX Shadow Plus 11-36 / Shimano Deore
WTB ST i19 TCS 27.5″  / Schwalbe Racing Ralph 27.5 x 2.25
Waga: b.d. / Cena 7 999 PLN / link
---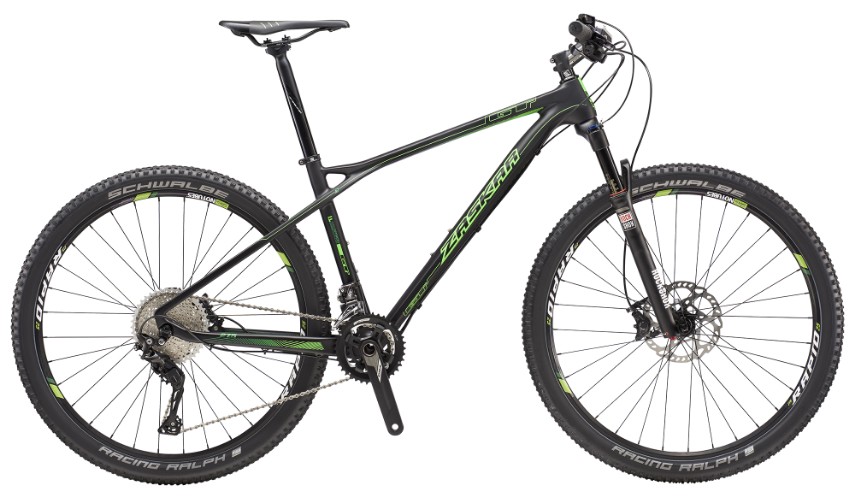 ---
GT Zaskar Carbon 27.5 Expert
---
Rock Shox Reba SR 100 mm / sztywna oś 15 mm
Shimano XT / FSA V-Drive Mega-exo 38-24 / Shimano XT Shadow Plus 11-42 / Shimano SLX
Stan's Notubes Rapid 25 / Schwalbe Racing Ralph 27.5″ x 2.25
Waga: b.d. / Cena: 9 999 PLN / link
---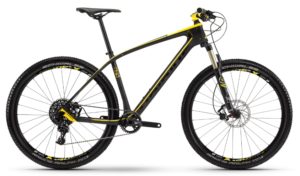 Haibike Freed 7.6
Fox 32 Float Performance 100 mm
SRAM GX 34 / SRAM GX 10-42 / Tektro Gemini
DT Swiss X 1900 / Schwalbe Racing Ralph 27.5 x 2.25
Waga: 10.4 kg / Cena 2 399 EUR
---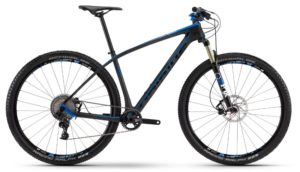 Haibike Greed 9.6
Fox 32 Float Performance 100 mm
SRAM GX 34 / SRAM GX 10-42 / Tektro Gemini
DT Swiss Spline X1900 / Schwalbe Racing Ralph Evolution 29 x 2.25
Waga: 10.5 kg / Cena 2 399 EUR
---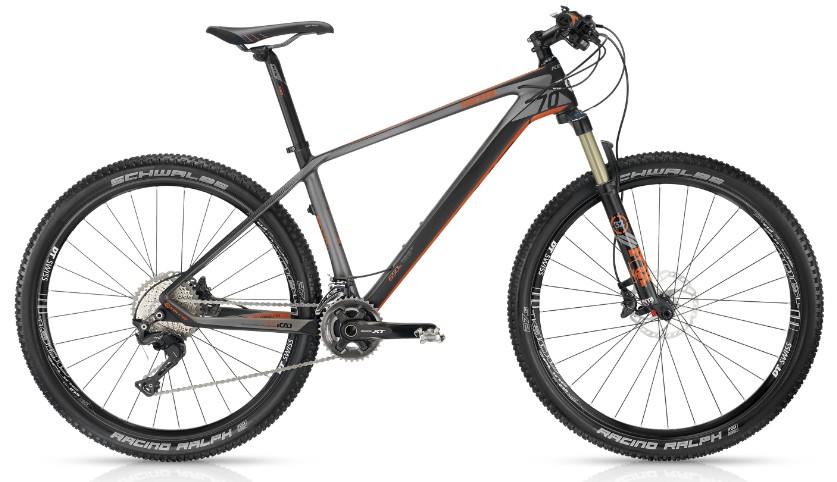 ---
Kellys Hacker 70
---
Fox 32 Float Performance 100 mm / sztywna oś 15 mm
Shimano Deore XT 36-26 / Shimano Deore XT 11-40 / Shimano Deore XT
DT Swiss M1900 Spline / Schwalbe Racing Ralph Performance 27.5 x 2.25
Waga: b.d. / Cena 9 999 PLN / link
---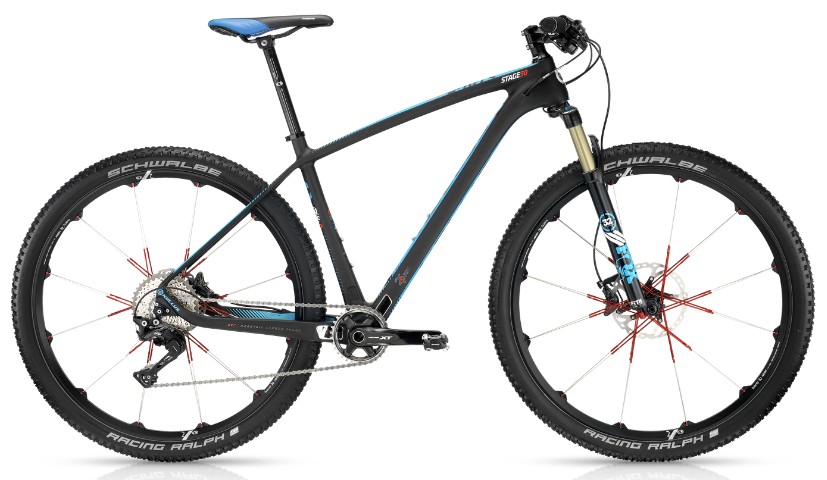 ---
Kellys Stage 90
---
Fox 32 Float Performance 100 mm / sztywna oś 15 mm
Shimano Deore XT 32 / Shimano Deore XT 11-42 / Shimano Deore XT
Crankbrothers Cobalt 2 / Schawlbe Racing Ralph 29 x 2.25
Waga: b.d. / Cena 11 499 PLN / link
---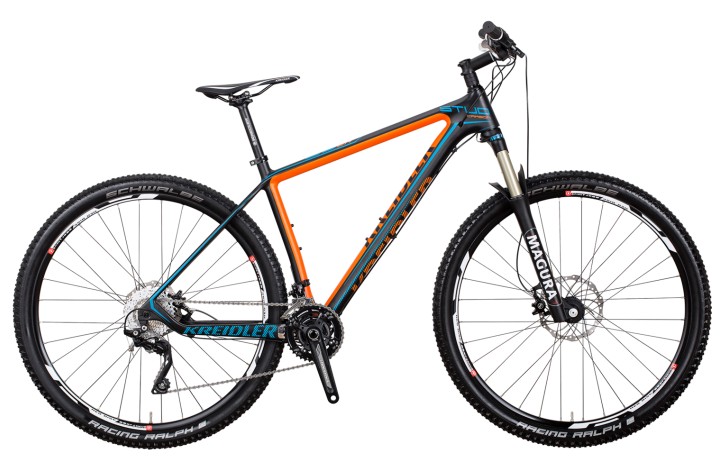 ---
Kreidler Stud 29er Carbon 3.0
---
Magura TS6 100 mm
Shimano XT / Race Face 38-24 / Shimano XT / Magura MTB6
Mach1 / Schwalbe Racing Ralph
Waga: 11.2 kg / Cena 10 990 PLN / link
---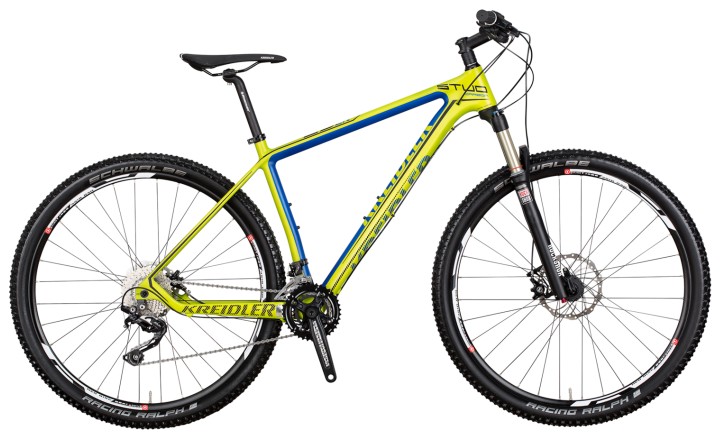 ---
Kreidler Stud 29er Carbon 2.0
---
Rock Shox Recon Gold 100 mm
Shimano SLX / Race Face 38-24 / Shimano SLX 11-36
Mach1 / Schwalbe Racing Ralph
Waga: 11.8 kg / Cena: 10 490 PLN / link
---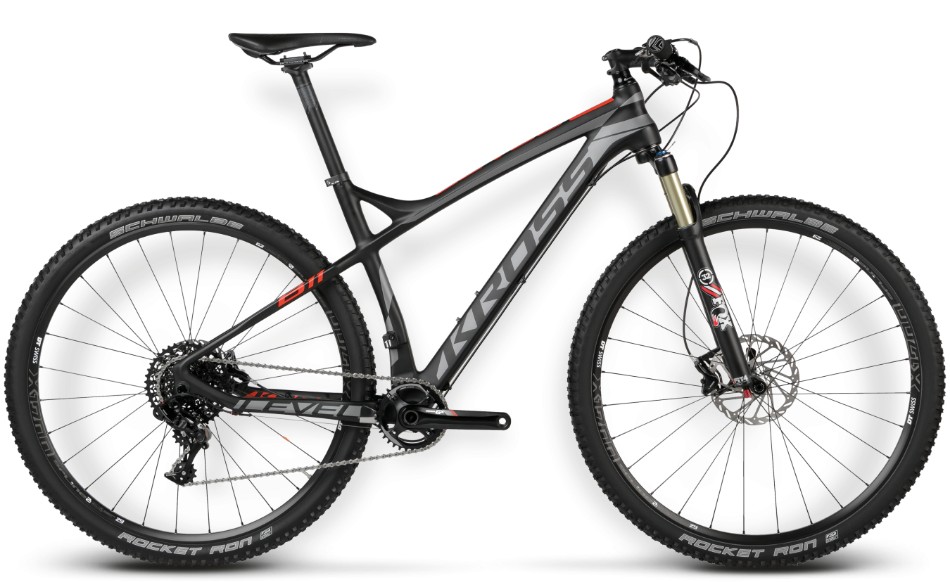 ---
Kross Level B11
---
Fox Float Performance 32 100 mm / sztywna oś 15 mm
SRAM GX 34 / SRAM GX1 10-42 / SRAM DB5
DT Swiss X 1700 Spline / Schwalbe Rocket Ron 29 x 2.1
Waga: 10.4 kg / Cena 10 999 PLN / link
---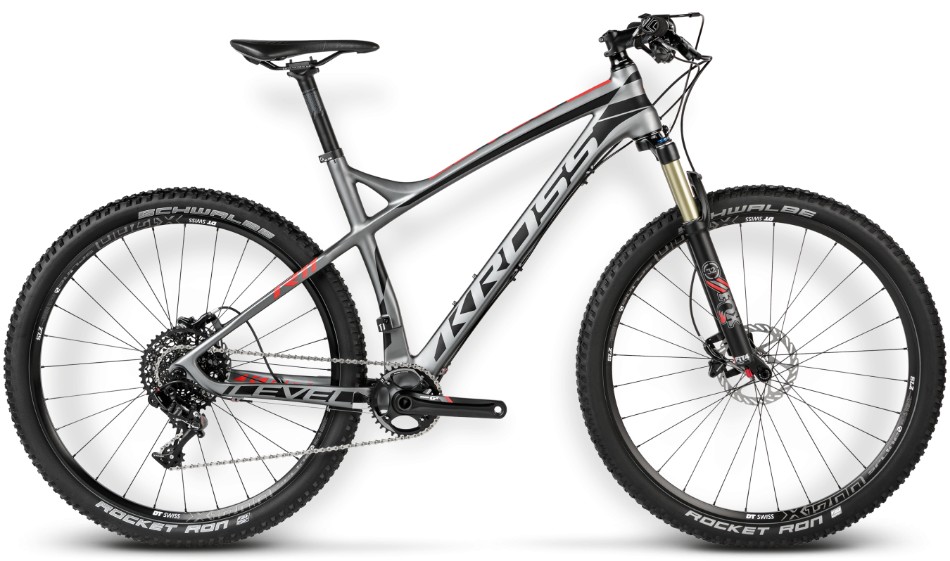 ---
Kross Level R11
---
Fox Float Performance 32 100 mm / sztywna oś 15 mm
SRAM GX 34 / SRAM GX1 10-42 / SRAM DB5
DT Swiss X 1700 Spline / Schwalbe Rocket Ron 29 x 2.1
Waga: 10.4 kg / Cena 10 999 PLN / link
---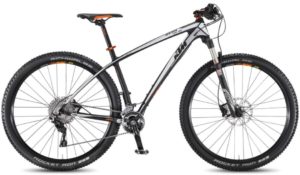 KTM Aera 29 PRO 2F
Rock Shox Reba RL
Shimano Deore XT 36-26 / Shimano Deore XT Shadow Plus 11-40 / Shimano M506
KTM Line CC 29″ / Schwalbe Rocket Ron Evo
Waga: 10.90 kg / Cena 10 699 PLN
---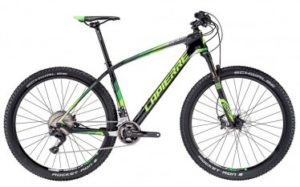 Lapierre Prorace 627/629
Rock Shox Reba RL 100 mm / sztywna oś 15 mm
Shimano XT 36-26 / Shimano XT 11-40 / Shimano XT
DR Swiss 466d / Formula DC71 / Schwalbe Rocket Ron Performance 2.25
Waga: 11.3 kg / 11 799 PLN
---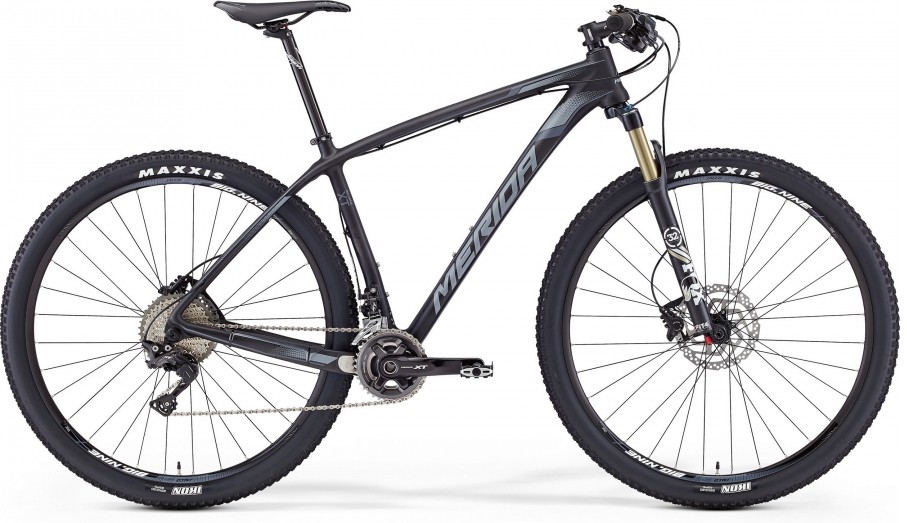 ---
Merida BIG.NINE XT
---
Fox 32 Float Performance / sztywna oś 15 mm
Shimano XT 36-26 / Shimano XT Shadow Plus 11-40 / Shimano M506
Merida Big Nine Pro D / Maxxis Ikon 29er 2.2
Waga: 11.1 kg / Cena 11 490 PLN / link
---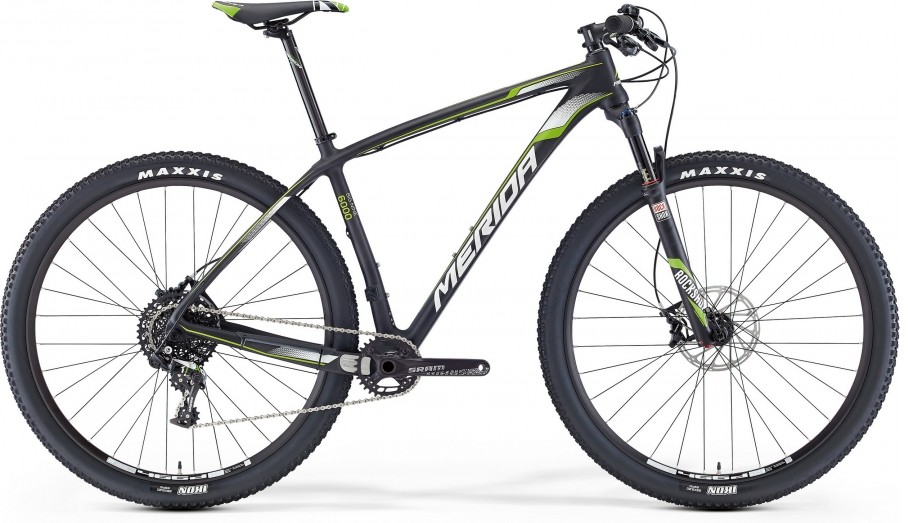 ---
Merida BIG.NINE 6000
---
Rock Shox Reba RL 100 mm / sztywna oś 15 mm
SRAM XSYNC 30 / SRAM X01 10-42 / SRAM Guide R
DT Swiss 466D / Bearing / MAxxis Ikon 29er 2.2
Waga: 10.5 kg / Cena 11 490 PLN / link
---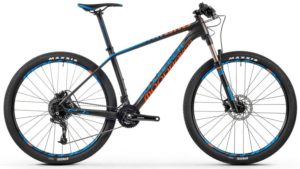 Mondraker Chrono Carbon 27.5″
Rock Shox 30 Silver 100 mm
SRAM X5 36-22 / SRAM GX 11-36 / Shimano M396
MDK-XP1 / Maxxis Ikon 27.5″ x 2.2
Waga: 11.3 kg / Cena 9 500 PLN
---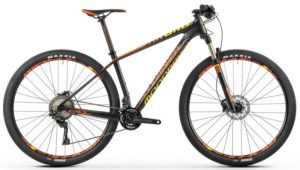 Mondraker Chrono Carbon Pro 27.5 / 29
Rock Shox 30 Gold 100 mm
Shimano XT / Race Face 36-26 / Shimano XT / Shimano M506
MDK-XP1 / Maxxis Ikon 2.20
Waga: 11.0 kg / Cena 11 500 PLN
---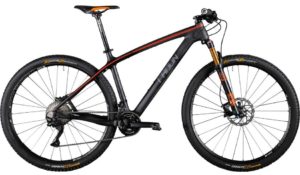 Radon Black Sin 29 8.0
Fox Float 32 Kashima / sztywna oś 15 mm
Shimano XT / Race Face 36-26 / Shimano XT 11-40
DT Swiss X1700 Spline / Continental X-King 29 x 2.2
Waga: 10.20 kg / Cena 2 199 EUR
---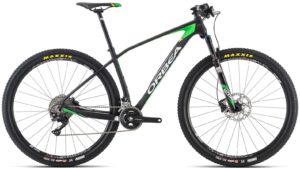 Orbea Alma M30 29
Rock Shox Reba RL 100 / sztywna oś 15 mm
Shimano XT 36-26 / Shimano XT Shadow Plus 11-42
DT Spline X-1900 / Maxxis Ikon 2.2
Waga: b.d. / Cena 10 999 PLN
---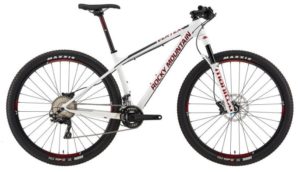 Rocky Mountain Vertex 950 RSL
Manitou Marvel Pro 100 mm
Shimano XT / Race Face Affect sL 38-28 / Shimano XT Shadow Plus 11-40 / Shimano M615
Wheeltech Helix TR25 / Shimano Deore / Maxxis Ikon Maxx Speed 29″ x 2.2
Waga: 11.2 kg / Cena 11 999
---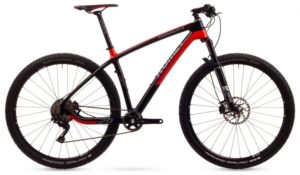 Romet Monsun 2
DT Swiss OPM 100 mm / sztywna oś 15 mm
Shimano XT 32 / Shimano XT Shadow Plus 11-40 / Shimano SLX M675
DT Swiss X1700 / Schwalbe Racing Ralph 29 x 2.25
Waga: 10 kg / Cena 11 999 PLN
---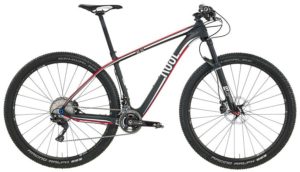 Rose MR Big 2 29″
DT Swiss ODL 100 mm / sztywna oś 15 mm
Shimano XT 36-26 / Shimano Deore XT 11-40 / Shimano XT
DT Swiss X1700 Spline Two / Schwalbe Racing Ralph Evo 29 x 2.25
Waga: 10.8 kg / Cena 2 299 EUR
---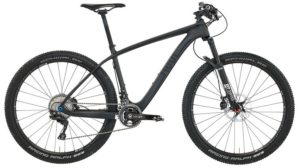 Rose Psycho Path 2 27.5″
DT Swiss ODL 100 mm / sztywna oś 15 mm
Shimano XT 36-26 / Shimano Deore XT 11-40 / Shimano XT
DT Swiss X1700 Spline Two / Schwalbe Racing Ralph Evo 29 x 2.25
Waga: 10.4 kg / Cena 2 299 EUR
---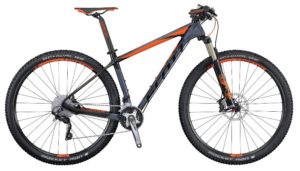 Scott Scale 730 / 930
Fox 32 Float Performance / sztywna oś 15 mm
Shimano Deore 36-22 / Shimano XT Shadow Plus / Shimano SLX M675
Syncros X-21 / Schwalbe Rocket Ron 2.1
Waga: 10.5 kg / 10.6 kg / Cena 10 799 PLN
---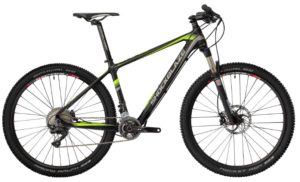 Shockblaze KRS Elite 27,5 / 29
Rock Shox Reba 100 mm
Shimano Deore XT 34-24 / Shmano Deore XT / Formula RX
Shockblaze Ultralight / Schwalbe Racing Ralph Evo 2.25
Waga: 11.7 kg / 12 kg / Cena 8 999 PLN
---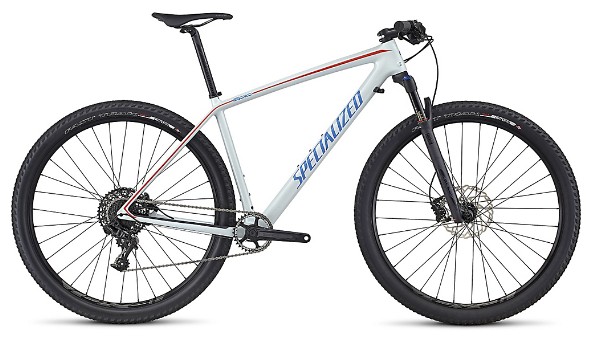 ---
Specialized Epic Hardtail Comp Carbon World Cup 2017
---
Custom RockShox Reba RL 100 mm / sztywna oś 15 mm
Race Face Aeffect 32 / SRAM GX 11-42 / Shimano M506
Roval Control / FastTrak 29 x 2.2
Waga: b.d. / Cena 10 999 PLN / link
---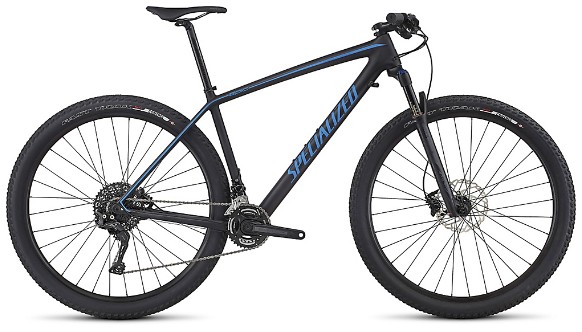 ---
Specialized Epic Hardtail Comp Carbon 2017
---
Custom RockShox Reba RL 100 mm / sztywna oś 15 mm
Shimano SLX / Race Face Aeffect 34-24 / Shimano Deore XT Shadow Plus 11-42 / Shimano M506
Roval Control / FastTrak 29 x 2.2
Waga: b.d. / Cena 10 999 PLN / link
---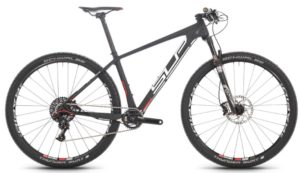 Superior XP 29 LTD CRB
Rock Shox Reba RL / sztywna oś 15 mm
SRAM X1 X-Sync 32 / SRAM X1 10-42 / Shimano M615
ZTR Rapid / Schwalbe Thunder Burt 29 x 2.10
Waga: b.d. / Cena 10 999 PLN
---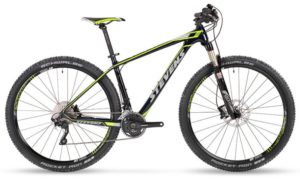 Stevens Sonora
Rock Shox Reba RL 100 mm
Shimano SLX 40-30-22 / Shimano Deore XT Shadow Plus 11-36 / Shimano M615
DT Swiss M 1900 / Schawlbe Rocket Ron Evo 2.25″
Waga: 11.1 kg / Cena 9 799 PLN
---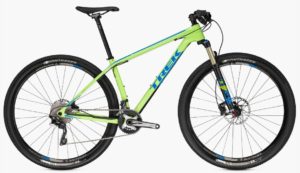 Trek Superfly 9.7
Fox 32 Float Performance 100 mm / sztywna oś 15 mm
Shimano SLX 38-24 / Shimano Deore XT Shadow Plus 11-36 / Shimano Deore
Bontrager Mustang Elite / Bontrager XR1 Expert
Waga: 11.1 kg / 9 999 PLN
---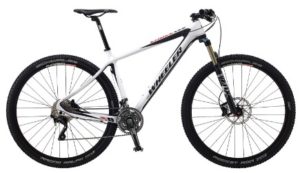 Wheeler Eagle 220 29er
Fox 32 Float Performance 120 mm / sztywna oś 15 mm
Shimano M671A / Shimano Deore XT 11-36 / Shimano M615
Alex MD-19 / Shimano Deore SLX / Schwalbe Rocker Ron / Racing Ralph
Waga: b.d. / Cena 10 900 PLN
---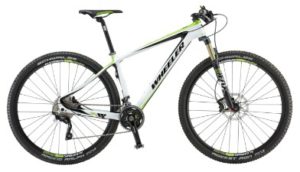 Wheeler Eagle Race SL 29er
Rock Shox Reba RL 100 mm / sztywna oś 15 mm
Shimano SLX / Shmano Deore Shadow Plus 11-36 / Shimano SLX M447
Alexrims MD-21 / Shimano Deore M618 / Schwalbe Rocket Ron / Racing Ralph
Waga: b.d. / Cena 10 900 PLN