Third stage of Afxentia was 50,7 km long with over 2100 m climb. The winners are Luca Braidot from Italian National Team and Sabine Spitz (Sabine Spitz Racing). Full stage results – link. In GC the leaders are Fabian Giger (Kross Racing Team) and Adelheid Morath (BH SR Suntour KMC) – link.
---
Jovanna Crnogorac – Serbian National Team
---
Stage #1 – ITT
Course was pretty hilly but I loved it, didn't expect to much because I know myself for those short once I'm not the best. Felt just ok and tried to have some nice rhythm. Finished on solid 17. With not a big gap.
Stage #2 – XCP
I didn't expect so much from this race ,but in the end it was amazing. I had good legs from the start, I could find my pace and rode with gun Rita almost all the time. I felt stronger than she,  especially on climbs. After a long decent on wide road we catch ladies in the front and soon after I managed to make a gap with Gun Rita. We were together until bottom of last 5km of climbing. As I knew I have good legs and that I was strong that day I had my pace and managed to cross the finish line as 3rd. Super happy with my shape finally coming out after 3 weeks of racing and training in Greece.
Stage #3 – XCP
Just from start I didn't feel 100% good, might be not proper warm up, but soon I felt good again. In front was one group with leaders with 4 ladies, just 20″ behind I was pacing the group with 5 riders. Felt really good and my legs were ready for another day of suffering. While I was pacing my chain broke and I had to run to the first feed zone. After the repair I came around 7′ behind girls and being passed by many others. Fixing chain was pretty fast, but unfortunately I couldn't find my rhythm all the way up and only with 15 km to go I felt good and could hold my pace. Unfortunately I lost so much time and dropped down in GC on 17th position, what it's now impossible to make big changes. But I never give up, so I'll give my best tomorrow and race full gass.
---
Fabian Schimd – Focus XC Team
---
The girls and boys did a great job today. Linda is in 9th place, Marcel in 16th, Barbie 14th, Lisa in 19th and Markus in 36. We are really satisfied with their performance. Only Flo had a day with really bad luck. Win on the first stage, technical on the second and while fighting his way back, he had a bad crash on today's stage, which took him out of the race. We wish him all the best and a fast recovery!
---
---
Adelheid Morath – BH SR Suntour KMC
---
I get the Leaders Jersey at Stage#3 (50km/2130hm)! I will do my best to keep it tomorrow at Stage#4 XCO.
---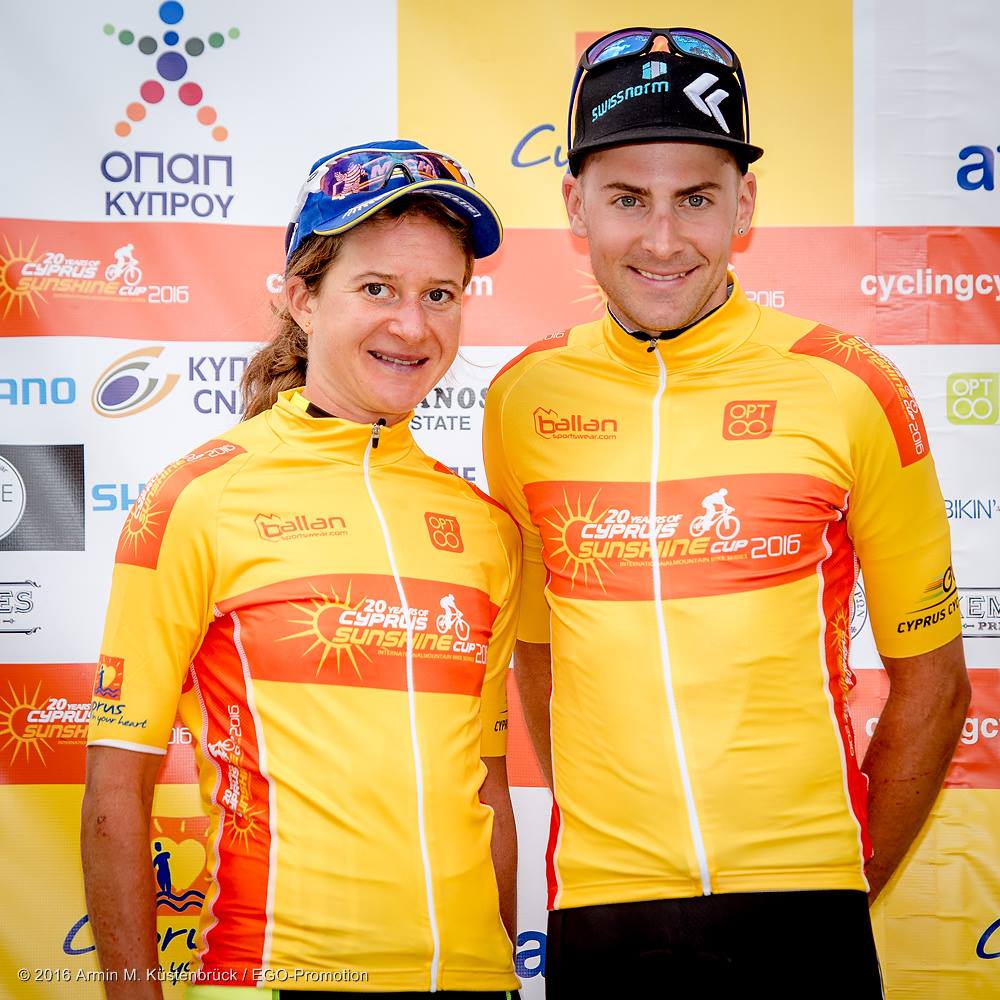 ---
Gunn Rita Dahle Flesjaa – Multivan Merida
---
Better feeling today then yesterday so it was a good day on the bike also today. Great trails so I really enjoyed all the defending we had in todays stage. Excited and ready for a good fight in the final day tomorrow :-)
---
---
Paula Gorycka – Airbike Prolog Jabłonna
---
The second stage was again a kind of marathon, but this time with a bit more challenging route. Major part was the yesterday downhill section which today we had to climb keeping a focus and picking up the best track. Just like yesterday, In end I was a bit burned out, I lost contact with the group, which fought on the finish of 6th place. Tomorrow the final stage last race – cross country, finally!
---
Githa Michels – Versluys MTB Team
---
My first 3 days at the Cyprus Sunshine were really good, i m really happy with my performance already en hope to hold the 3th place in the general classification.
---
Jordan Sarrou – BH SR Suntour KMC
---
After a long climb of one hour and 15 min I got the right pace to get on the first ten positions. I felt better than yesterday. Two riders build some gap and we never saw them again. Behind we were approximately 10 riders to battle for third place. we sprinted in a very fast final kilometers. I crossed the line in 6th. In GC i'm 11th. Tomorrow final stage on XCO course. I will give everything to be on top position and get a good GC in order to score some UCI points.
---
---
Maxime Marotte – BH SR Suntour KMC
---
9th in the bunch for the 3rd place. Some troubles after the start when I hit a rock that a rider "push" under my wheel. I stopped to put back the chain on the ring. But we were a lot of rider in the front. So I was 50 and I chased during some kilometers to catch the lead group. The legs weren't on top, so not enough power to follow the 2 guys. 6th in the overall but the 3rd at 30″… Tomorrow we will give everything!