Once we made the "Race resume" from Andalucia Bike Race and Cyprus Sunshine Cup, we decided to continue the series this year. Next stop was obcious – ABSA Cape Epic, which gathered top pro and amateur riders from all the world. In order to make the race summary simple we adressed to the riders folowing four questions with intension to bring them to Poland for our stage races ;)
What makes ABSA Cape epic so special that it is now the most demanded stage race in the entire MTB world?
ABSA Cape Epic is a one week long race. There is a lot of things happeing during race and behind the scenes. What is the one unforgetable for you from 2015 edition?
ABSA Cape Epic is the best of the best stage races – it is clearly on the top of the podium. Which two other stage races would you put on podium for places 2 or 3?
In Poland we have two well known stage races – 4 days (in June) long Beskidy MTB Trophy and week (in July) long Sudety MTB Challenge. What should happen in order you could consider them in your season?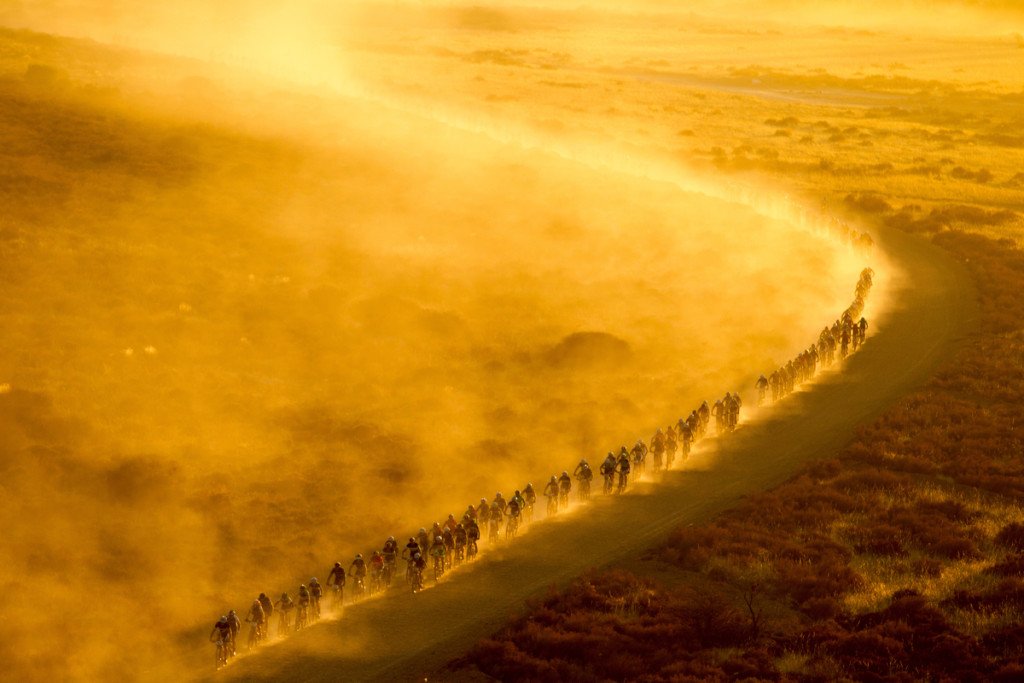 Karl Platt – Team Bulls (partnered by Urs Huber):
First of all if you would be there and see how everything is going then its easy to say yes it is the best. Everything is very professional organized. This race is unique! I think because it is also on the other side of the world and the landscape, the scenery, the heat ,the dust makes it so special. It is most televised and everyone knows about that race!
—
It is really hard to say what was special, I think it is the combination of many things! But the most i don't like is to wake up at 5 in the morning haha…
—
Oh, I did not compete in every stage race but from what I did for sure Transalp is on 2 and Andalucia is on 3.
—
Haha… You never know, but we can make arrangements :)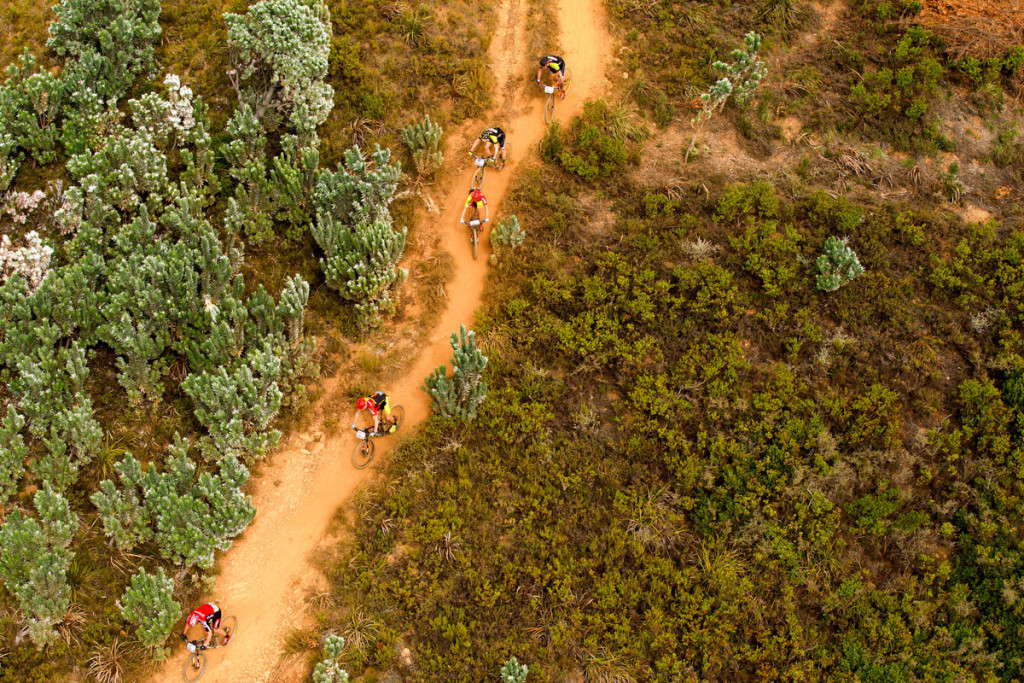 Dariusz Mirosław – Vimar Martombike Specialized (partnered by Andrzej Kaiser):
ABSA Cape Epic are eight pure MTB stages – no asphalt. Simply 700 km in off-road which kicks your ass. One of the challenges were the high temperature amplitudes – from +5 in the morning to 35 in the middle of the day. On the top of this there were often heavy rains in the morning. The other thing was wake up at 4:30 a.m. in the darkness, before the sunrise. Another thing was the living in the camping – small tents, trying the get to the toilet with the headlamp. Once you did the morning toilet, there was a time for breakfast – with cockchafers trying to get to your plate. There was also a "pleasure" to go over a dozen of kilometres thru the camping – to wash the helmet, shoes, laundry and take care about the bike. Each spot in a distance of several hundred metres. ABSA Cape Epic is not only racing, it is also a kind of survival camp.
—
We had a lot of fun during a training ride with Jose Antonio Hermida on the prologue route. It took us over an hour and Jose was almost all the time talking :) A lot of funny stories we heard from him and suddenly he asks about my wife and children – what a man! He remembered even the kids names!!!
During this ride he was testing some tire from Maxxis – Schwalbe Thunder Burt style and finally he got puncture. Helped him with CO2 cartridge because he had nothing – "if you are pro you never get technical ;)". In the end of the ride he asked for a picture – he would like to put it on his wall behind the desk. Of course we go for it! Nevertheless I asked him to make something funny. It was not even a second and Jose was already hanging from the tree. The picture is already a famous one :)
[fb_embed_post href="https://www.facebook.com/313689532164029/photos/a.316656858533963.1073741829.313689532164029/330906083775707/?type=1&theater/" width=""/]
The other so called funny story was on one of the stages. Andrzej was bitten in the tongue by some fly. Before it swell he managed to babble that for the next 40 km of the stage he will not talk too much. Well, no real difference as you are anyhow quiet thru all the race :P. But I have to say that in next days he talked a bit ;)
—
It is difficult for me the justify. I have not too much experience. All riders are saying that Brasil Ride is a tough one – mostly due to high humidity and the weather. The other one is BC bike race, but there you need to have a good technical skill – it is more enduro style. Andalucia Bike Race is also a hard one. There is a lot of stiff climbs, technical downhills. From the very beginning you go full gas. Spanish riders moves on very fast – you are in the preparation period and for them is already middle of the season.
—
There was never easy on Beskidy MTB Trophy. Maybe this year we will give a try with Andrzej on Sudety MTB Challenge. As I heard it is also an epic stage race.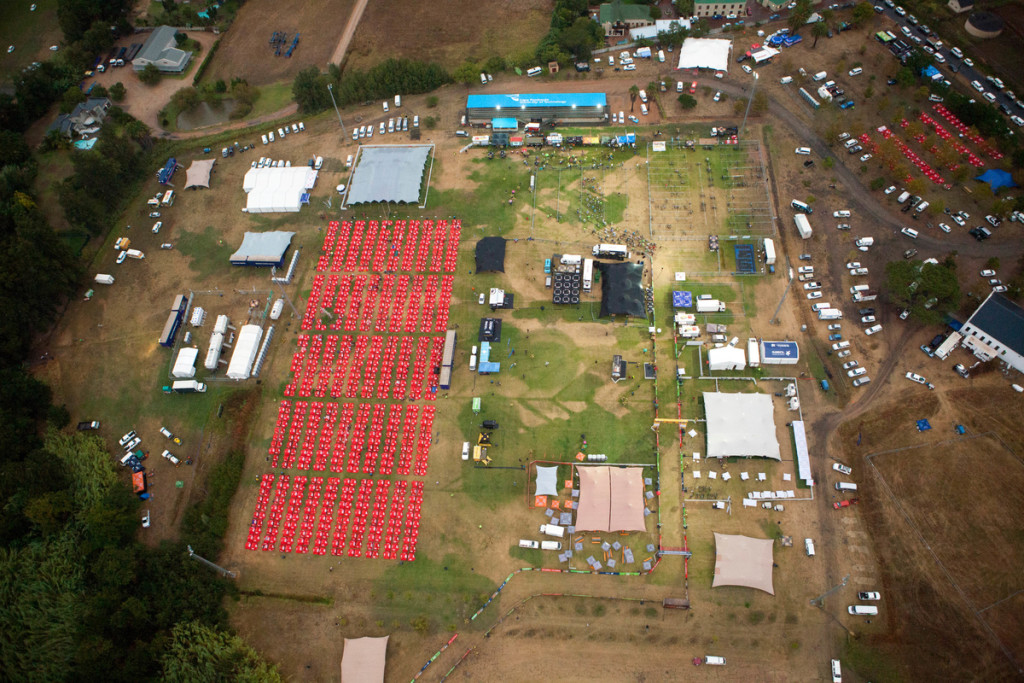 Sally Bigham – Sellronda Hero (partnered by Christina Kollmann):
The Cape Epic is tough. All MTB stage races are hard and push riders to their limit and beyond but the terrain and climate in South Africa are exacerbating! The sand, the rocks, the thorns, the dust and the technicality of the trails combine increasing attrition on the equipment and the rider! Add 30+ degrees Celsius to the mix and you have an incredibly challenging 8 days of racing. Simply getting to the finish line is an awesome achievement for any rider.
—
The Cape Epic this year was fraught with bad luck and challenges for me. First, my original partner withdrew from the race one week before the start because of a knee injury. That gave me one week to find a new partner! This is not easy for anyone, but it is made all the more difficult when competing at a professional level. Many pro women are not able to race in anything other than their trade team clothing – but the rules of the Cape Epic stipulate that all Cape Epic duos must wear identical kit. I was fortunate enough to be able to race for a neutral team – Sellaronda Hero – but many other pro riders are less fortunate and their teams will not permit it. With only a couple days notice I found a new partner, but she was unprepared and it was a huge challenge for her to step up and take to the start line with me. She came from the snow in Austria straight to the heat in South Africa. On stage 3 she collapsed with heat stroke and our race was over. That's the Cape Epic – it takes no prisoners!
—
Andalucia Bike Race is a great event with some very nice technical trails. I also love racing the Transalp because it feels like big journey across the spectacular Alps, starting in Germany and moving every day until the finish at Lake Garda, Italy.
—
I've heard of both events and I have considered racing them but in previous years they have clashed with some of my other commitments. They are on my radar and I do hope to participate in one or both – I've heard great things about them including excellent trails!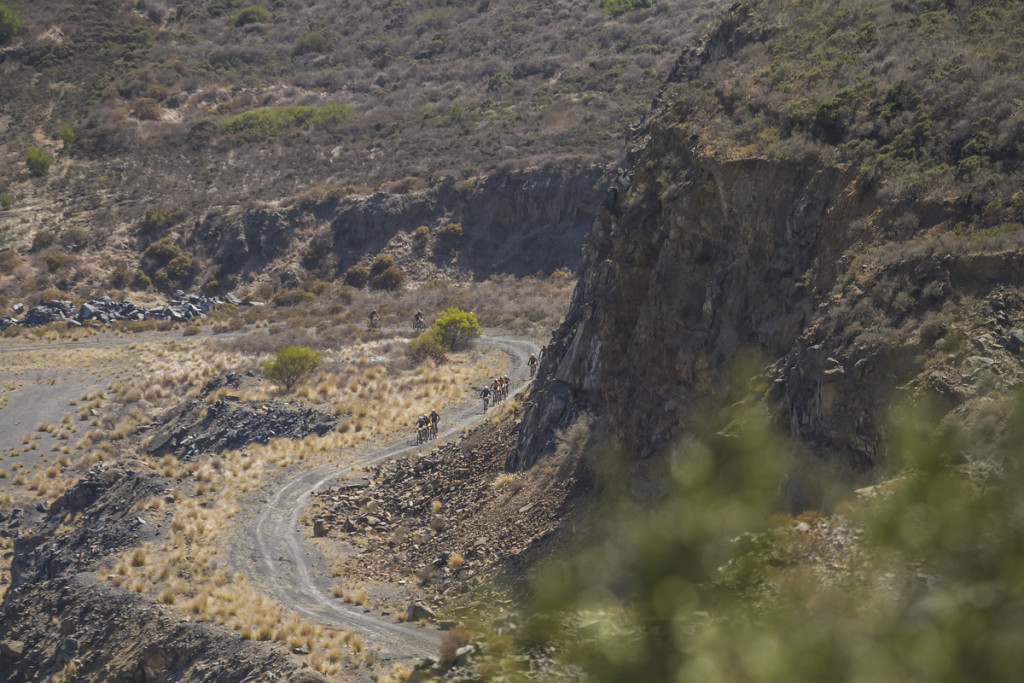 Christina Kollman – Sellaronda Hero (partnered by Sally Bigham):
I think there a some points why exactly this race is the most demanded stage race in the MTB world. It is hard to describe what's going on in this 8 days of racing. All this suffering, pain, happiness, emotions, fatigue….. you have to feel it once, then you know what I mean. First of all it´s not only a stage race, it is more than a race, it is an adventure in the wildness of South Africa.
8 days, more than 700 km and about 16.000 meters of climbing.
It is a real battle against the body and head, for us pro riders, and even more for this 1000 other people which sleep in tents and spend more than 8-10 hours every day on their bikes. My deep respect to all this people for living their dreams!!!!
Another point is this big field of pro riders. I don't know another stage race in the world with more great names on the start line than the ABSA Cape Epic. This fact makes this race to a big fight for the Podium and the World Cup points. And this huge field of pro riders make it that interesting for people all over the world.
A very important point is also that they try everything to became the woman's race more and more important. Specially for us woman it is not that easy to get the same attention than the pro mens and sometimes we feel very unfair treated!!!! The Cape Epic give us the possibility to show our strengths and we get some media time and this is the most important thing to bring more and more woman to our beautiful sport!
—
First of all the 2015 edition will be forever unforgettable for me because it was a last minute adventure. My partner Sally Bigham asked me 6 days before the race starts if I can jump into the place from her injured partner Blaza Klemencic. On one side it was a big honour to ride with the silver medallist from the Worlds 2013, on the other side it was also a little bit of pressure, even if she never ever made me pressure! I enjoyed every day in the saddle with her and we had a lot of fun together. Sure I did not plan the Cape Epic this year, so I went there out of my winter training, but still in good shape. It is a big challenge to do this without any specific preparation on such a high level,  but we could catch a 2nd place on stage 2 and we did a really good job!
I had the possibility to ride with her for the Sella Ronda Hero Team and we had the support from her own team Topeak Ergon Racing. It was an unforgettable experience to join up with this great team where everything is running more than perfect! unforgettable is also all this work behind us. The mechanics, the physio, our great cook, our team manager. They do everything that the only thing we had to concentrate is to ride our bike.
And yes of course, unforgettable will be also my last stage before the Epic 2015 was over for me! We started this morning on the 3rd place in the general women's category and the first climb we felt really well and were on 2nd place. Till km 80 we made our gap to the 3rd woman's team bigger and bigger everything looked like another podium for us. But then at km 103 I needed medical help. I collapsed on the ground because of heat stroke. What a horrible experience and also a sad one to let my great partner alone in the race for the next days. But health is health and sometimes you are helpless, this can happen!
—
Hmm… it's difficult to say, because I was a road racer before. There are not so many MTB stage races which I had done over the last 2 years…
But ask me this question again in 3 years then i can give you a good answer and maybe I will place your race in Poland on the podium :-)
—
I would really love to race in Poland in this great landscape. I have heard already from this stage races and will do it once. This season my main focus are the Worlds the end of June….I will train some weeks in Italy to get used to this steep long climbs. But the 7 day race in July sounds really good. Maybe there is a possibility that I will come just this season!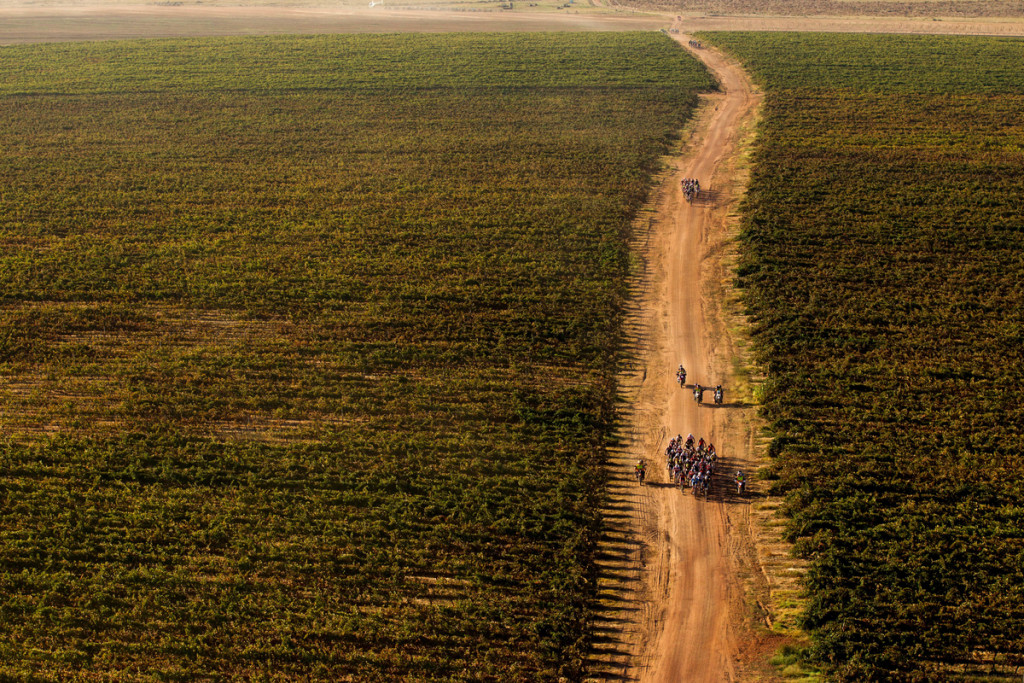 Gunn Rita Dahle Flesja – World Bicycle Relief (partnered by Kathrin Stirneman):
 The long distance in rough and demanding trails. The heat. The dust. Early start. Sleeping in tent or in a camper. I slept terrible for the entire week. I like camping but when I do this kind of challenge I need good hours of sleep to recover as good as possible.
—
It was a chock for me to alost loose my partner already on the prologue. Kathrin had a bad stomach pain/ problem the last two days before the stage race started. We went out full power as planed for the prologue and then half way her energy was totally flat. It was scary to see how pail and how much pain she had during the last 30 minutes of this race. We stopped many times, we had to walk several times. Before the last long downhill I was scared that she would lever make it to the finish…but most of all concerned for her health.
—
Stageracing in MTB is not really my job at this moment so my last stagerace I did was Tour VTT back in the nineties. That was a great event for sure :-)
—
First step will be to get an invitation :-)
Kathrin Stirneman – World Bicycle Relief (partnered by Gunn Rita Dahle Flesja):
I think because the event became bigger and bigger year by year and the organization is just top! Every single detail is planned and organized and everything works perfect which really impressed myself. Also the spirit of Africa makes it very special. The landscape, weather and the South African people…
—
For me it's really impressive to see all the amateur riders. They are on their bikes for 8-11 hours every day and then they're sleeping in tents. If they're unlucky it rains and their sleeping bag and everything is wet. They don't have massages or mechanics. But they have so much fun out there…incredible! And they are spending lots of money to get the entrance and spending their holiday for training and the Cape Epic. Those people are the real heroes for me!!!
—
That's hard to say because I only know a few more. I think you can only tell about a race you have experienced. My other two favourites are Costa Blanca Bike Race because of awesome routes with lots of single tracks and Cape Pioneer because the route is similar to Cape Epic, but more familiar and a good spirit.
—
They are I between world cup races and other important XCO races so they don't fit for cross country riders. Maybe if they would be in march/april or september/october we could think about racing there.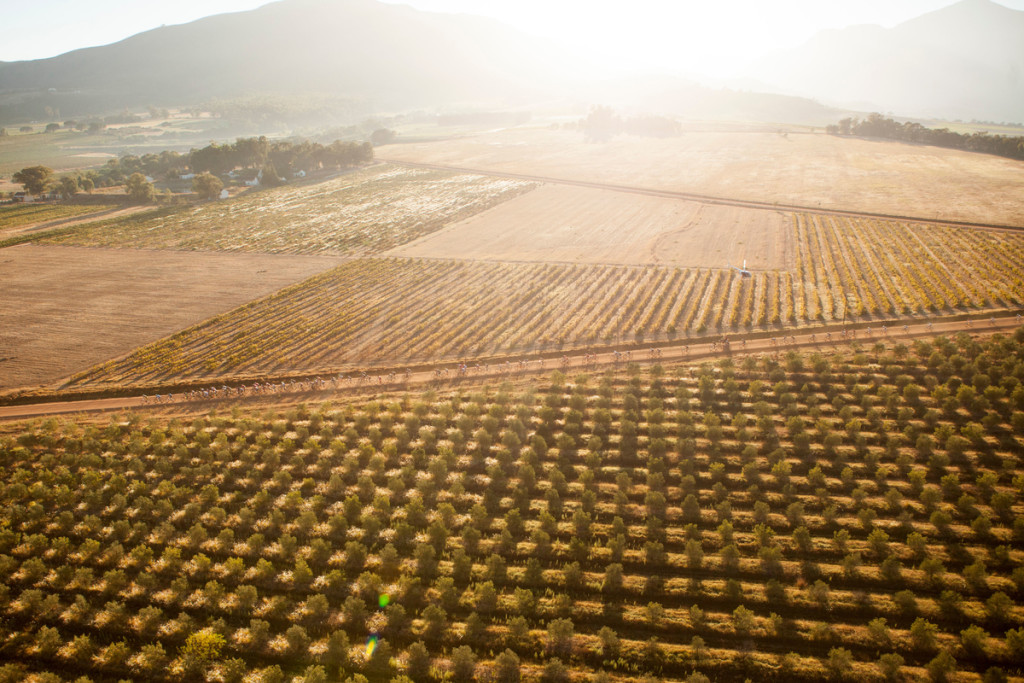 Martin Gujan – Novus OMX Pro (partnered by Fabian Giger):
I don't have a lot comparison why the Cape Epic is so special. I think the stage races in general are really special because it's a challenge. It can happen a lot. The material has to be good, your staff too. And you need also luck. And because you ride with a partner the bad luck can be double and you have to get along with each other. It's more then just pedal hard.
Special is for sure that it is really good organised and the good media coverage.
—
Unforgettable is that I came, I saw and I conquered. It was my first ABSA Cape Epic and I could immediately win a stage and wear the jersey. Nobody expected that.
—
I was taking part just in another stage race: the Brasil Ride. There I could enjoy more the spirit. It was really cool race in a country that you don't know.
—
Fit in the schedule, good price money, start money, good UCI points and an invitation.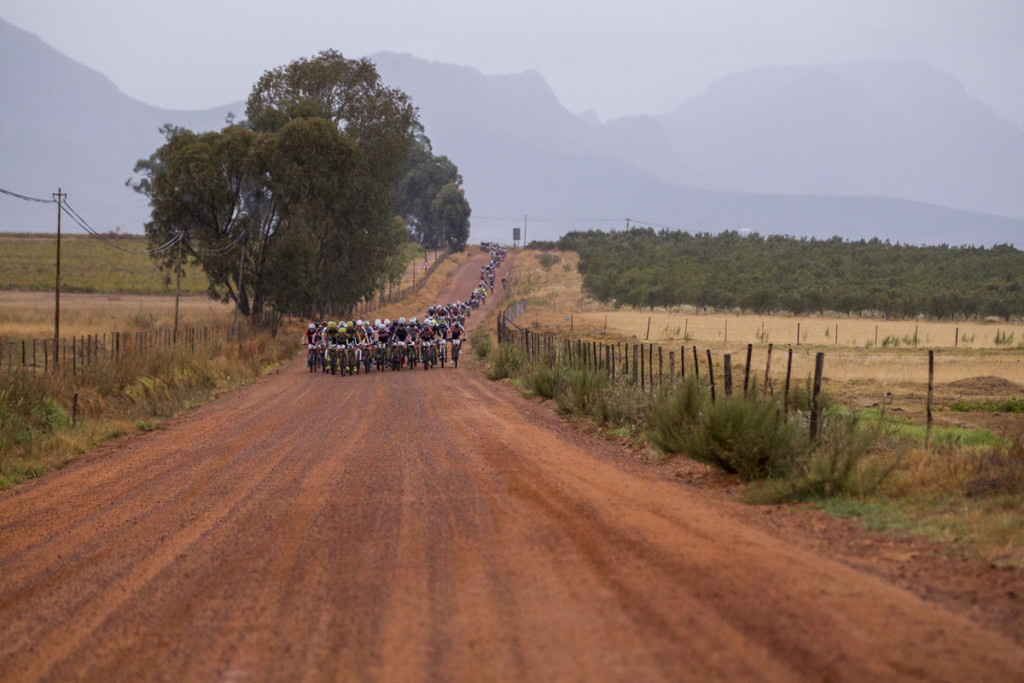 Fabian Giger – Novus OMX Pro (partnered by Martin Gujan):
The Epic is a special race for different reasons. First of all, the route is very demanding. Most is off road and there are no easy meters. Furthermore the competition is really strong, as the best pros are at the start line.Plus the tv coverage is great, which makes it interesting for riders.
—
There are a few special things in this race. The great organisation, nature.
Personally the win at the prologue.
—
I like stage races. But mainly I am racing XCO and will not race more stage races.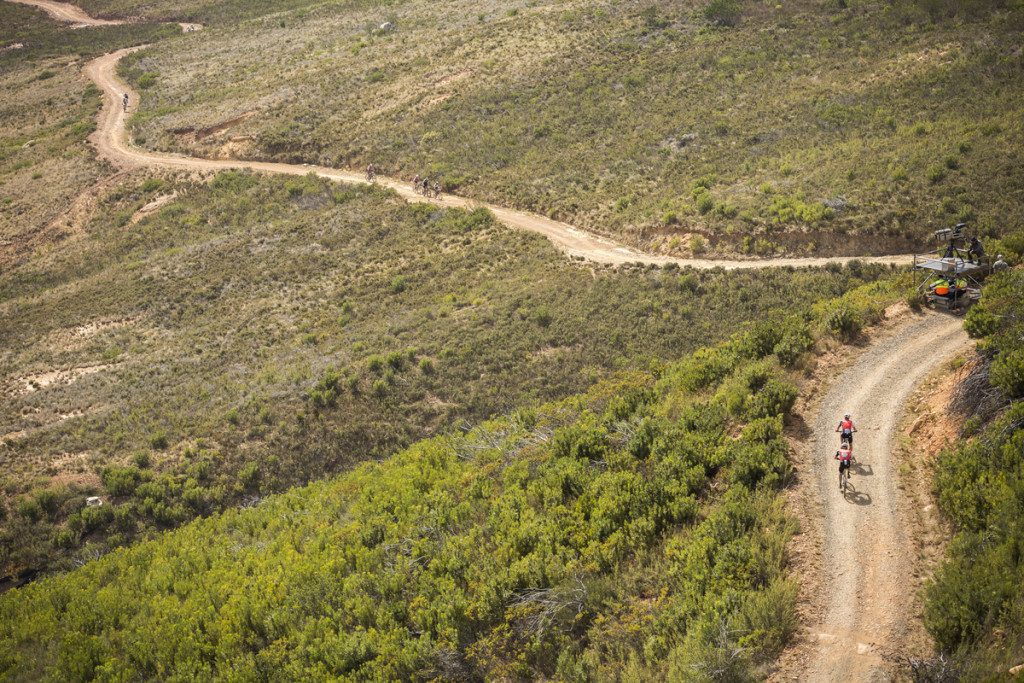 Ivonne Kraft – ETIS (partnered by Peter Vesel):
My opinion is that it's almost the media-presence and TV-spots what's making it sooo extra-ordinary. The organization paid a lot of money into this media-system, riders are paying the highest entry-fee … I don't understand why … for the riders is so special because of the professional Media-system around. It was much better in 2007 till 2009, but then it turned into a race, where only the male professional riders could make a lot of money and everybody else is only paying for it … Sponsors do pay for riders because of the media-presence, that's it. Now they started the commercial for the female top prize money … I got never an invitation or a free entry to ACE, so it's not for all top-ladies the same … and this year they stopped the prize money for all other categories (they used to pay a bit for the top 3 of each category – now they stopped this) it's a mark of pureness: instead of given a prize money to the Mixed, Master and Grand Master they give an extraordinary heavy trophy you have to pay an extra high fee at the airport because of extra weight!!! It's like a joke … at the airport I came to the check-in telling them that I have a heavy problem in my bag: We won the ACE, haha … I unpacked the Trophy and friendly asked the airline to transport it for free … it was Emirates Airline and they asked the boss, at the end they let me take all the trophies and "ACE-Starter-package" with an overweight of 10kg for free, but telling me it usually costs 950 Dollars to take this extra weight back … I was lucky travelling with the most friendly airline! Without sponsors paying for my start I never would be an ACE-rider again … they only think about male professional riders and a bit of females, just the winning team, that's it. The starts are mass-starts where only the top 30 teams can start easily and breath well – everyone else had to smoke the worst sand-dust the first race-hour, it's because they stopped doing the "flying-starts" on 20km tar-roads, what was really fair to the last rider having good air to breath and good few for the first race-hour until the field spread out more and the dust is less extreme …
—
Hardest head-wind we ever had on many staged, but specially on day 3 where we nearly could not cycle up the wine-yards, the wind was blowing us next to the riding line. It was a fight against the wind. And those ice-cold starts the first 4 days at ht prologue and in Oak-Valley. Plus having beautiful views after dark and rainy climbs when the sun came out over the valleys.
—
ACE is the most famous, but not the best! I love the Brasil Ride (great service for all riders!), Sudety Challenge is very nice to ride, need more comfort for all riders, but great stages, lot of technical trails mixed with power climbs and speed acts, then comes the lovely small stage races like "Rally Di Romagna", "Transgharb" as a GPS-race, "Break-Epic" to race 98% Mountain trails riding and Beskidy is top too, nice views, good trails, just a bit too much water on the course, but great nature. This year I will do my first Titan Desert for a Spanish-Team, looking forward to it.
—
I would like to come to Sudety-Challenge, racing alone or in women-team, but I need a sponsor to pay for travel, entry-fee and accommodation or having a invitation which covers this. For Beskidy I have no money in June. I need to work. I counted a bit on ACE-prize-money to cover 2 weeks home, but there was no prize-money. So I must work more.
Peter Vesel  – ETIS (partnered by Ivonne Kraft):
The landscape, lots of single tracks, a high number of both professional and amateur competitors, the organisation of the race itself and the media coverage.
—
Single tracks and of course the joke of the day in the fifth stage when the speaker on the water point #3 after 5 hours of racing told us »Peter and Ivonne, enjoy the single tracks now..« Of course we still had to cope through the 300 meters of difference in height.
—
I would put Alpen Tour on second place and Trans Schwarzwald on third.
—
I found out that both of the races are really well organised and worth of participation. I really can't participate in Long Beskidy MTB Trophy because it would take too much time, but I would maybe try Long Sudety MTB Challenge if I got an invite from the event organizers (start fee payment) or a polish competitor.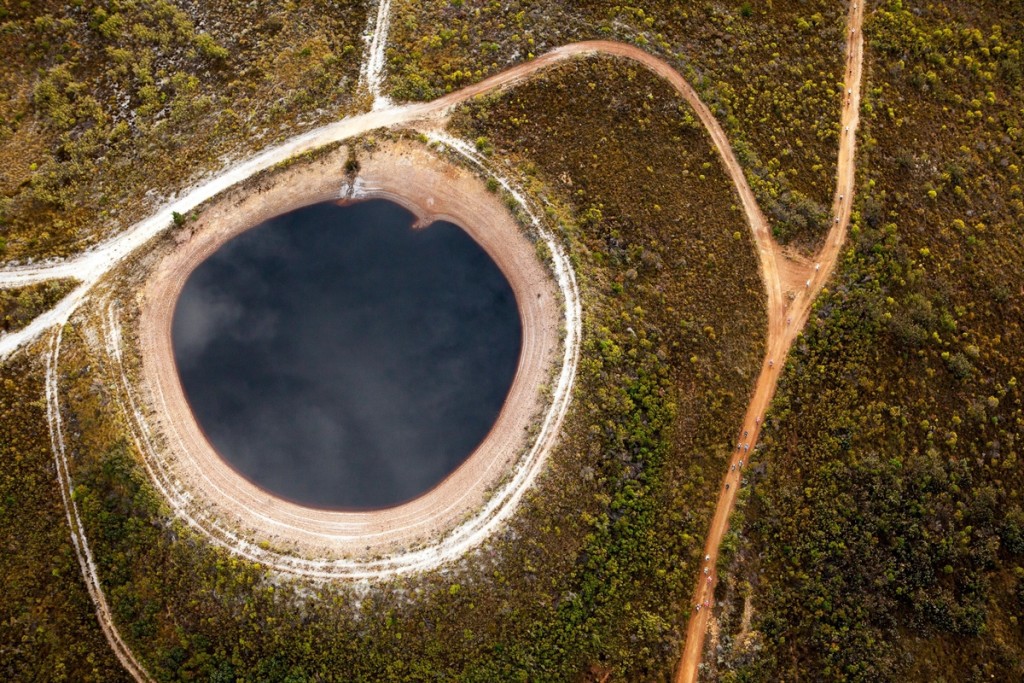 Jose Antonio Hermida – Mutlivan Merida (partnered by Rudi van Houts):
The route, the trails, level, the special and lovely country of South Africa…and race with a partner it's super fun, specially with Rudi.
—
The life at expo/team area…and also the situations during the race that there is always a time for some jokes.
—
I don't really know many stage races as long I only take part at Andalucia Bike Race and Absa Cape Epic. For me those are the best…Friends also told me that BC bike race in Canada it's also super cool.
—
Right know are not in my racing plans, but never know about the future.
Rudi van Houts – Mutlivan Merida (partnered by Jose Antonio Hermida):
The Absa Cape Epic has one of the best organisers in the World. They are always improving and think about so many details.
—
One of the things what I like about the Epic is being close with the amateurs. I really enjoy to share stories after a stage with amateurs in the riders lounge. Another thing is that you have to work super intense with your partner and with José Hermida it's always fun.
—
I don't do many stage races a year because my main focus is still on cross-country. That's why I choose my stage races early in the season. Another stage race I like a lot is the Andalucia Bike race. It's not so hard as the Epic but also good organised and has some good trails.
—
So for the moment the stage races in Poland don't fit in my program. And if they were earlier in the year it's probably too cold in Poland.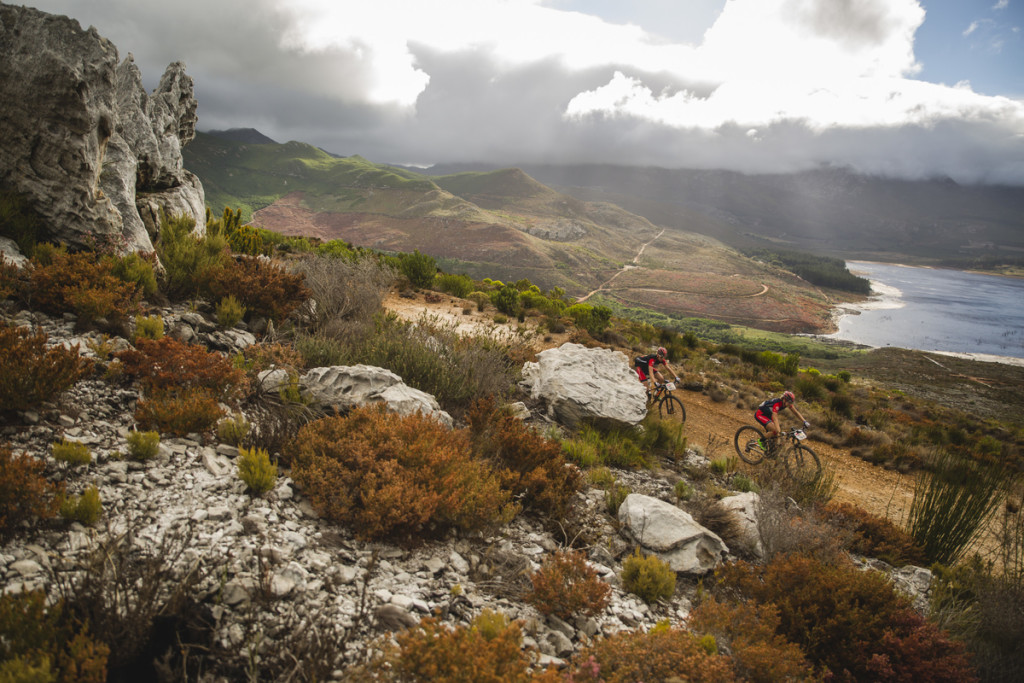 Rourke Croeser – USN#1 (partnered by Travis Walker):
Putting it simply the ABSA Cape EPic has a formula of making the logistics for the riders as simple as possible. The riding is by no means the best in the world, but it does require extreme grit. They have good prize money and good UCI points. These days athletes pay is determined by their world ranking, so the UCI points are a must as well as good prize money.
—
This year's ACE was far to spread out in my opinion. The distance between the food court and the village was far to spread out. Good food is a must.
—
South Africa has some of the best stages races in the world, BC bike race is another good event, but the organization seems to be a little haphazard. The next two on my list have to be Sani2 Sea and whines2 whales. The organization is unbelievable and the events cater for the pro riders as well as the amateurs.
—
Thank you for the request, I would have to check my calendar, if the entry and accommodation were to be covered, I'm sure my team would look at sending me.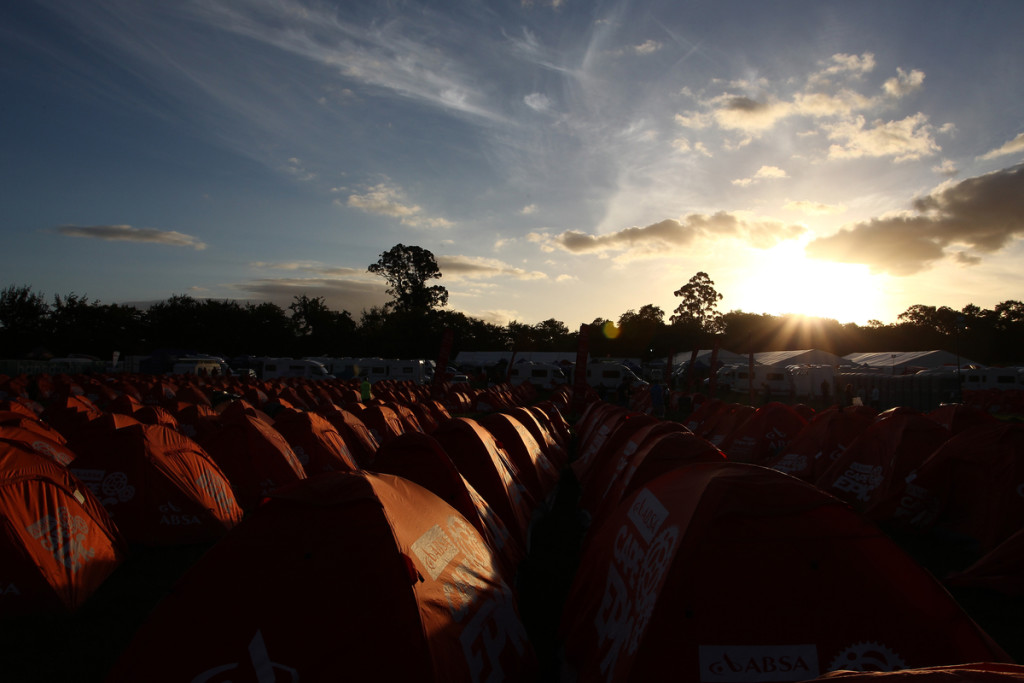 Matthys Beukes – Scott Factory Racing (partnered by Philip Buys):
The ABSA Cape Epic has got a major following worldwide and a lot of TV coverage. So almost every mountain biker knows about it, that is why it is so big internationally.
—
We are very focused during the entire week of racing, but what stood out for me this year was our stage win on stage 4. We attacked only 10km into the stage and stayed away until the end for 100km. That was special.
—
The ABSA Cape Epic is only big because of the media presence. I would put Breck Epic, Swiss Epic and the Lesotho Sky on the podium because of the awesome trails.
—
It would be great to come ride in Poland but our season is already fully booked and with the world cup starting soon, all our focus is now on that.